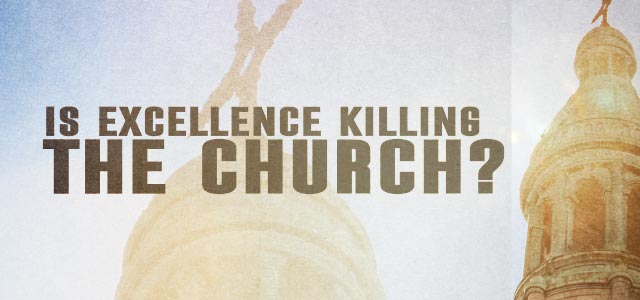 If you regularly attend church conferences you will no doubt hear the rallying cry for excellence in the church. In some ways this is a good thing. I am all for pastors working hard and doing all they can do to reach people with the greatest message ever told. Where excellence starts to kill the church is when we make our church a polished flawless exhibition that we invite people to be impressed by.
When the church takes its cue from the business world and perfects its processes so that it can extend its reach and solidify its brand, we have lost our way.
When excellence drives us to be efficient with people so we can be innovative with problems, we are no longer the church; we are simply a 501c3.
What I think we need more of is simply "really good churches." What is a good church? A good church is a family, not a factory. The church I serve is a big church. We want to reach more people not because we want to impress them or count them. It's because families were intended to reproduce, to grow. There is nothing more exciting in a family than a new baby. Families are messy, families are not perfect, and most of the time they are not very polished. You walk though our house and you will see a house that is well lived in. Does this mean we disregard all awareness of seekers? Not at all. When our family has guests over to the house, everyone in the family pitches in to clean up to make ourselves presentable for our guests. We do a good job, but I guarantee that if you come visit you will find a stray pair of Star Wars underwear lying where it shouldn't be. Why? Because we have kids, because we are a family, and I think most of our guest find a few cracks in our perfect façade strangely comforting.
My fear is that in our preaching of the gospel of excellence on blogs, at conferences and in our conversations, we can actually discourage people that we are trying to encourage. When people from small churches and small towns come to conferences, they are wowed by the excellence they both see and perceive; and what was meant to inspire actually does the opposite. We must inspire, but in our drive for the excellence we must always bring the application of everything we do back to the gospel. It is only through the gospel and our gratitude for the forgiveness we don't deserve that we can do excellent things from a heart of humility rather than self-seeking.
We need good churches that preach the gospel with clarity, that stand for truth in adversity, that love people relentlessly. Good churches are like good families: They are far from perfect, but they are home. People need Jesus more than a show. They crave relationship more than perfection. They want a pastor, not a CEO.
I pray that my innate drive for excellence doesn't keep me from helping to build a well-lived-in church that my kids will always call home.