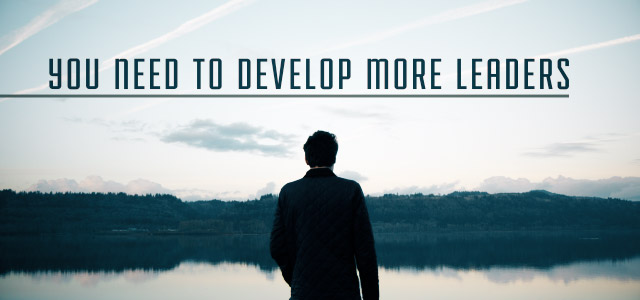 John Maxwell said, "Teamwork makes the dream work, but a vision becomes a nightmare when the leader has a big dream and a bad team." When it comes to church leadership, there isn't any room for lone rangers. We need a team. We need to be making more disciples, and empowering more leaders to fulfill the mission Jesus gave us.
Tony Morgan was spot on in a recent blog post in which he spelled out the two keys to breaking through any growth barrier. He boiled it down to developing more leaders and developing better systems. The problem is, some churches are terrible, unhealthy incubators for potential leaders. From churches that still think nominating and voting on volunteers is actually effective to those that create a culture where volunteers are afraid to mess up, many churches reflect a set of values that stifles leadership development.
I recently met with the Grace Hills staff to remind us all of some of the key values of a church that allows volunteers to emerge as leaders and develops great teams. These may seem a little random, but they actually flow together.
1. The leader of leaders must be growing spiritually and developing personally. I am the biggest lid to my team's growth.
2. There is always room on the team for another leader.
3. When we're out of room, we create new layers with leaders of other leaders.
4. With few exceptions, no one is disqualified from the team.
5. Doubling the team means doubling the reach. To reach more people, develop more leaders. Leaders who have bought in are most likely to bring others.
6. Leaders are best developed in personal relationships, face-to-face. Mass emails and calendars have their place, but leaders are developed in person.
7. We have to start with a vision, a mental picture, of what a mature leader looks like. Otherwise, we can't know where we're leading people.
8. Leadership development needs an intentional process with defined next steps.
9. We must lead spiritually, not just organizationally. In the church, discipleship and leadership development are almost synonymous.
10. Developing leaders need permission to try, to fail and to succeed. Some great future leaders are just waiting for permission to launch.
11. Leaders provide people with the tools, resources, budget and encouragement to succeed—not rules and red tape.
12. We try to serve up a win for developing leaders. We get out in front and help pave the way for volunteers to see the positive results of their efforts.
I wrote a couple of years ago that "no one does more to determine the spiritual temperature of my church than me, the pastor." I still believe that. And I believe it about every church staff member who leads a team, every supervisor in a company, every teacher in the classroom and every other kind of leader in the world.
To grow, develop more leaders and better systems, and make sure your organization creates the healthy environment in which leaders can thrive.