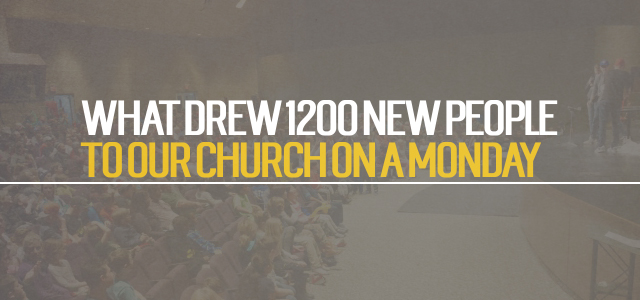 I serve a great church of about 750 in Southern Ontario in Canada, West Park Church. Unlike in the U.S. where our church would be considered a medium sized church, here in Canada we are considered a large church, though not a megachurch. We're in a growing area in the city of London and are always looking for new ways to connect with our community. We recently stumbled upon an idea that resulted in 1,200 new people from our community coming inside our church on a cold Monday. Here's what happened and an idea you may want to try in your church.
Every third Monday of February, several provinces in Canada celebrate Family Day, a day originally established to give families time together. It's the same day as President's Day in the U.S. On that day almost everything closes in Canada, including most stores. So, unless families want to get outside in the cold weather, they're stuck inside or looking for some place outside their house where it's warm.
In early January our staff was brainstorming about non-threatening activities we could offer our community to get them inside our doors. We came up with the idea of a Family Day event. After about an hour of brainstorming we all felt super excited about it. We originally thought we might reach 500-600 that day. But as we planned in the days following that first meeting, we began to trust God for even more.
And were we delightfully surprised. Over 1,200 people from our community showed up on that Monday two weeks ago, excluding the 150 volunteers. That represented over 300 families from our community. And, over 130 of those families signed up to be on our email mailing list.
Here's how we promoted the event.
We printed up colorful postcards, gave them to our church members a few weeks out, and encouraged them to invite their friends and neighbors.
We mailed out the cards to about 3,000 homes nearby a week prior.
We creatively promoted it during our services starting four weeks out.
We dedicated a web page for it on our web site.
We heavily promoted it on Facebook.
We rented a portable sign and put it on the road in front of our building.
We partnered with a Christian camp that emailed their email contacts in our area inviting them to the event.
Here's how we prepared for that day.
We recruited 150 of our church members to serve as volunteers for the event.
Instead of training the volunteers on another night of the week, we asked to them arrive an hour and a half early the day of the event for a brief training session.
We met several times prior to the event to carefully plan all the logistics.
And, we scheduled an evaluation session the week after the event to talk about how we could improve it.
Here's what we provided for the event (held from 2-6, 2-4:30 for the activities and 4:30-6 for movies). 
We spaced out the activities throughout our entire building.
We offered hotdogs, popcorn, soft drinks and cotton candy for an all-inclusive family price of $10 per family. Every person received a wrist band that enabled him or her to get food and enjoy all the activities. The wrist bands also gave us an exact attendance count.
We rented several inflatables geared to different age groups.
We hired a local pet store owner to bring his large reptiles for the kids to pet. This was a real winner.
We showed two different movies at the end of the event, one geared toward little kids and one geared toward older kids.
We gave away several nice prizes right before we showed the movies. That kept people there and that's how we got their email addresses. They had the option to check on their raffle ticket if they wanted to receive emails about similar events at the church.
Every 30-45 minutes we held fun Minute to Win It contests for kids.
We've now made this an annual event for us. We see it as a pre-evangelism experience designed to create favor with the community. We believe that when attenders need spiritual or emotional help, they will remember their good experience at West Park on Family Day and come to us for help.
As we strategically plan to reach our community, we've scheduled these 'anchor events' during the year to reach our community.
Family Day event (Feb).
Canada Day event (late June) on the Saturday prior to that holiday (think Fourth of July for the U.S.). In this event we provide similar activities as we do for Family Day, only outside, and provide a free fireworks show as well.
We plan to hold several outdoor movie nights on our property where we'll show movies and provide popcorn and drinks (summer).
Christmas Eve (we provide a walk up live native scene complete with live animals).
Easter Sunday service (we make this special for kids by providing a petting zoo and kids love it).
A back to school event (Sept).
We believe that spacing these outreach events will have a cumulative impact on our community and help people take further spiritual steps like coming to a worship service.
What creative ideas has your church used that reached your community?