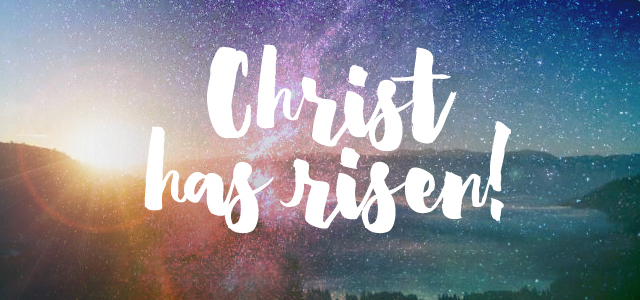 The Resurrection From Matthew 28:1-10:
After the Sabbath, at dawn on the first day of the week, Mary Magdalene and the other Mary went to look at the tomb.
There was a violent earthquake, for an angel of the Lord came down from heaven and, going to the tomb, rolled back the stone and sat on it. His appearance was like lightning, and his clothes were white as snow. The guards were so afraid of him that they shook and became like dead men.
The angel said to the women, "Do not be afraid, for I know that you are looking for Jesus, who was crucified. He is not here; he has risen, just as he said. Come and see the place where he lay. Then go quickly and tell his disciples: 'He has risen from the dead and is going ahead of you into Galilee. There you will see him.' Now I have told you."
So the women hurried away from the tomb, afraid yet filled with joy, and ran to tell his disciples. Suddenly Jesus met them. "Greetings," he said. They came to him, clasped his feet and worshiped him. Then Jesus said to them, "Do not be afraid. Go and tell my brothers to go to Galilee; there they will see me."
Easter is such a busy season for planters and pastors. As you follow-up with your Easter visitors, plan your next sermon series, and continue to faithfully serve God through your church plant, our prayer is that you also would experience the resurrection of Jesus anew.
As Tim Keller writes in Jesus the King,
If you can't dance and you long to dance, in the resurrection you'll dance perfectly. If you're lonely, in the resurrection you will have perfect love. If you're empty, in the resurrection you will be fully satisfied. Ordinary life is what's going to be redeemed. There is nothing better than ordinary life, except that it's always going away and falling apart. Ordinary life is food and work and chairs by the fire and hugs and dancing and mountains – this world. God loves it so much that he gave his only Son so we – and the rest of this ordinary world – could be redeemed and made perfect. And that's what is in store for us… So live in the light of the resurrection and renewal of this world, and of yourself, in a glorious, never-ending, joyful dance of grace.
May the joy of Jesus' resurrection overflow from your heart into your neighborhood, city, and beyond to reach many for Christ!