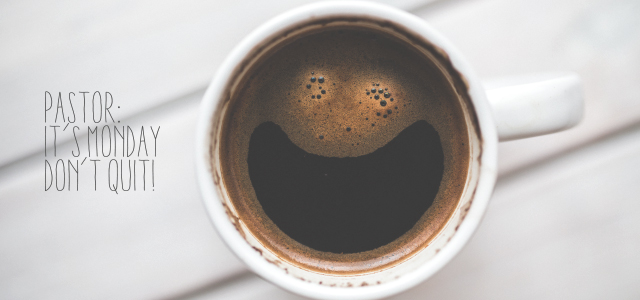 Welcome to Monday. It's the first day of a new workweek—a time for expectation and excitement. For some church leaders (and, to be honest, for folks employed outside the church, too), Monday isn't always a good day. You've probably heard about the proverbial pastor who offers his resignation every Monday. If that's who you are, below are some reasons you may not want to quit today.
It's Monday. That's obvious, but when you're struggling, Monday isn't the beginning of an exciting week; it's the first day of another long week you think you just have to survive. Don't let that thought capture you today.
Whatever you're facing is likely fresh. Yesterday's criticisms are still ringing in your ears. You're still recalling that messed up sound system, that blown sermon illustration and that lower-than-expected attendance. All of these thoughts will diminish as you get busy during the week.
The fatigue of the weekend can be lasting. "Weekend" sounds restive, but that's not always the case for church leaders. The emotional and physical stress of Sunday can bleed into Monday. Tired people aren't always the best decision makers.
Making life decisions in a storm isn't wise. I once read about a fighter pilot who taught his students, "Set your flight instruments in the clear, and trust them in the storm. If you change them in the clouds, you might regret it when the storm clears." That's wise advice for life.
Storms are almost always temporary. Sure, they can be intense. The winds can be tornadic, but even the most violent storm passes. And, no storm is ever outside the control of the Creator who loves you. Hold on to that truth today.
You may not have taken enough time to reflect on the good from yesterday. Before you quit, at least take time to search for glimpses of God's glory this past weekend. Seek Him with a genuine willingness to see His hand above any turmoil.
Faith requires you to see beyond today. If all you're seeing is today's anguish and frustration, you're not seeing enough. Believe God is at work even when you don't understand what's happening.
You've probably worked through Mondays like this one before. If you've been in ministry for any length of time, my guess is you've been here before. The God who brought you through those other Mondays is still Lord of this Monday.
If today's hard for you, let us know how we can pray for you.