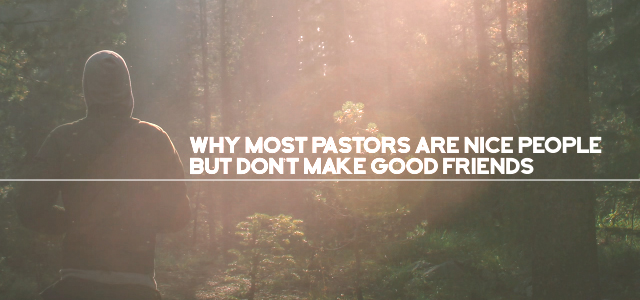 Most pastors are nice people, they just don't make good friends.
That may seem harsh to say, but as a pastor, I think it is true.
Hear me out.
Pastoral ministry is an all encompassing job. It is highly relational, emotional, mental and spiritual. It can be draining physically and overwhelming. It isn't harder than other jobs, it is just different.
Because you can get a call at any moment with something that needs attention, many pastors burn out and struggle to have boundaries so they can rest and recharge.
Pastors spend so much time counseling people, helping people work through issues or sitting in meetings that when they meet someone, they often see them as a project instead of a person. They see them as someone who will need something, someone who will need advice or need to be fixed instead of a person to simply spend time with.
For most pastors, church is something they are always thinking about. The next capital campaign, new ministry year, next sermon series, next issue, hiring a new person. It never stops. They spend all their time with people talking about church. They sit with their wife on date night and talk about church. It is not just a job, it is their life. It is who they are and this becomes unhealthy.
Then, they meet someone new and they can't stop talking about church. They can't shut it off.
What do you do then? How can you become a better friend if you are a pastor? Here are five ideas:
Have friends who don't attend church (or your church). This is crucial. If you don't have any friends who don't attend church, that's a great clue that you aren't good at friendships. Churched people will tolerate a pastor who don't stop talking about church or is a poor friend because they want to be close to a pastor. An unchurched person won't take that.
Have a no-church-talk zone. There should be a time of day, a day each week, where you stop talking about church stuff. Stop thinking about, stop checking your email. Don't talk about it at least once a week. For many pastors this will be so hard to do, but incredibly healthy.
Take a day off. If you aren't taking your day off as a pastor, you are sinning. I'm blown away by how many pastors are killing themselves working six or seven days a week. Stop it. Rest, recharge, take some down time.
Get in a small group. I'm blown away by how many pastors are not in a small group or missional community at their church. They'll often say that the elders are their small group. This line of thinking attempts to make a pastor untouchable and that's a sin. In a small group, people see who you are, you can't hide any longer. You start to see how people see you and if you are any good at community. This might feel like it goes against #1 but it doesn't because many pastors don't have friends in their church. Now, you need to be careful here. You don't just share everything with someone in your church, you must show discretion on the information and with the person. There have been times Katie and I have shared everything about a situation with our MC, and sometimes not. Each situation is different, but you should be in community with some people in your church who are not in leadership.
Get a hobby. I was talking with some pastors the other day I am coaching out of burnout and I asked them, "What do you do for fun? What recharges you? What is fun?" Blank stares. Many pastors do not have a hobby. Things like fixing a car, working with wood, hiking, playing sports, knitting or cooking. Nothing. If that's you, sit down and answer that question, what do I find fun? If you don't have a hobby, you won't have anything that lets off steam, anything that is fun, anything to do with others.