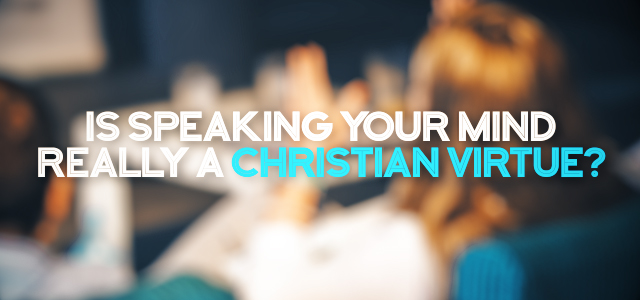 We live in an age where "speaking your mind" is considered a virtue and a hailed as a sign of good leadership. But is this trait something the Bible commends? Should Christians be known for "speaking their mind"?
There are several truths about our speech we should consider from Scripture:
The Bible commends speech that edifies. Paul, writing to the Ephesians, says that Christians can either speak words that destroy or words that build, words that are given with a desire to build up the body of Christ or words that are wielded as carnal weapons of destruction (Ephesians 4:29). There is a difference, even, between verbal and written engagement meant to crush and winsome polemics meant to inform or rebuke.
So, is "speaking your mind" a Christian virtue? Not if "speaking your mind" implies unfiltered, uninformed foolish talk that hurts and destroys. Let's pray for Holy Spirit power to seek after God in the way we use the gift of language and pray for repentance when our mouths reveal as-yet unsanctified parts of the heart.