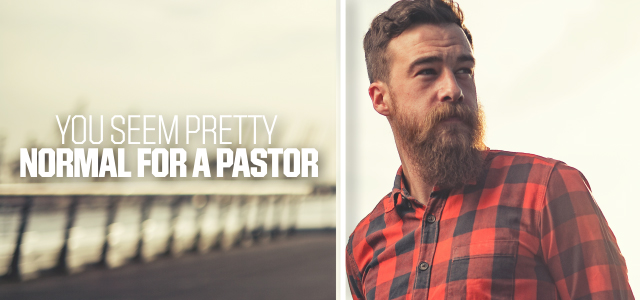 Everyone loves compliments—me included. I received a compliment recently from someone who met me for the first time and it was so encouraging.
I met some visitors in the hall at church one Sunday. It was their first time and they didn't know where the preschool area was, so I walked them there. (I actually took them in the preschool wing through the wrong doors, as I found out later, but I got them there. What do I know, right?) They didn't realize until I got up to preach I was the pastor. The lady sent me an email the next week and apologized for inconveniencing me. I had actually told them that morning it was not a problem—I actually enjoyed helping them. Then she wrote, "I felt like you were just a nice person. I didn't know you were a pastor!" She meant it—and I took it—as a compliment.
It reminded me of some of my favorite compliments I have received as a pastor.
Pastors, do any of these make you smile when you receive them?
Here are my seven favorite compliments to receive as a pastor:
"You hang out just like a regular guy," or "You seem pretty normal for a pastor."
Well, thank you. It may be because I pretty much am a regular guy. I am full of mistakes, fears, frustrations and heartache. I'm called to be holy—"set apart"—but, so are you. This doesn't mean, however, I don't know how to have fun, can't laugh or talk about things you talk about—such as sports, families, current events or life struggles—which I have too.
By the way, as a normal, regular guy, I'm also capable of disappointing you. I hope I never do, but I am. It comes with being normal.
"I can understand you when you preach."
Well, good, I've succeeded. Of course, you could be saying I'm simple-minded, but I'd own that statement too. "Jesus loves me" still blows my mind. But, one of the things I strive to do is take a more complex truth and make it simple and easier to apply to someone's life. When I hear a 6th grader takes notes in my messages and then I hear a person in their 80s say I challenged them—I know God is using me most effectively.
"I liked your speech today."
This is always said by a visitor who has seldom—if ever—been in church. I hear it frequently from internationals, but also from people who simply don't know church language. I love it. It shows we are reaching people far from God.
"You were speaking just to me today."
It may appear this way and I'm glad you took it personally. Sometimes I'm staring into the crowd—and, because my eyes aren't as good as they used to be—I can't see anyone well. It always amazes me though how God can take one truth and apply it to a dozen different people in their individual circumstances. So, if the shoe fits with today's message, please wear it. Probably, however, it is God's Spirit trying to speak to you. My question—will you obey what God's Spirit says to do?
"Thank you for being transparent about your mistakes."
Seriously, I try. Honestly, I don't have a choice. When you've found yourself on the bottom so many times, you certainly aren't comfortable trying to be someone you're not. To me, the real test of integrity is living Monday through Saturday the life I claim behind the podium on Sunday. So, to do that means you're going to hear evidence of how I'm not perfect when I preach.
"Thanks for what your church does to help the community."
Wow! Thanks! I hear this frequently when I attend community functions. This is certainly our goal. Thank you for recognizing one of our values is actually being accomplished. We love our community and we are here to serve!
(Side note—Jeremiah 29:7 is a verse that challenged me years ago for how we do ministry. "Also, seek the peace and prosperity of the city to which I have carried you into exile. Pray to the LORD for it, because if it prospers, you too will prosper.")
"Where's Cheryl?"
People are always looking for my wife on Sunday—mostly to give her a hug or a prayer request. I love knowing our church loves my wife as much—OK, being honest—more than me. I know so many pastors who wish their wives were more active in their ministry. I'm blessed. Also, if you do get mad at me, since I'm just a regular and normal guy, at least you'll keep coming because you love my wife. She never makes anyone mad. (Not even me.)
What's a favorite compliment you receive, pastor?