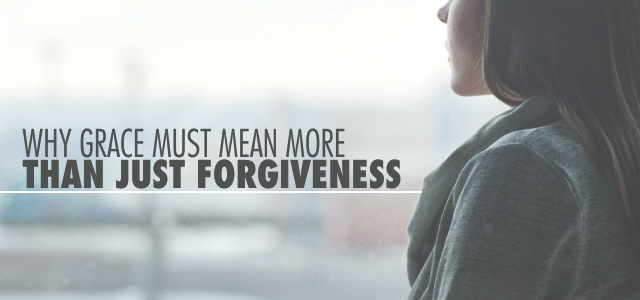 Here's why grace must mean something more than forgiveness:
Once there was an abusive husband. He was a rage-aholic, given to fits of rage, and, horribly, those moments sometimes overflowed into violence. Like the time he slammed his wife up against the kitchen cabinets. Or the time he slapped her across the face and then, in horror and shame, he ran off to find a quiet place to tremble and cry.
The wife—a Christian—forgave her husband each time he came home. He said (quite accurately), "I don't know what comes over me." The wife loved her husband deeply and saw the many good sides of this flawed man, but she lived in fear that the next rage-riot might bring a harm that would not heal. She stayed with her husband because each time he was sincere, each time he begged for forgiveness. She knew her duty as Christian was to extend grace.
The only thing she knew of God's grace was forgiveness. She had been told all her life that she herself was powerless over sin, and God's grace came to forgive and restore her relationship with God. She was enough of a Christian to understand that if God had forgiven her, she should extend the same grace to others, especially her husband.

She knew the something of God's grace, but only enough to put her in danger.
It's God's grace that forgives and restores. Sweet forgiveness. Sweet—and filled with torment unless there is something more.
If we look at the wife in this story we want to scream, "Get out! It's not safe!" Any sane Christian understands the woman has no duty to remain at home and risk injury or death because of some notion of grace, expressed as constant forgiveness.
If we look at the husband in this story we see a man trapped in thoughts, emotions and behaviors that will mean his ruin and the harm of everyone he loves. A sympathetic view of the husband understands he, too, is a tormented soul in desperate need of help—help beyond merely wiping clean his sinful slate. The most gracious thing his wife could do would be to move out and demand that he get the help he needs to overcome his deep anger and pain.
And what of Jesus, the third member of the marriage? We could no more imagine Jesus leaving this husband in his condition than we could imagine Jesus telling a homeless man, "Go your way, be warm and filled," without giving him food and clothing.
Beyond the characters in this simple story lay a larger question: What about us? Would a grace-filled God leave us in the condition he finds us? Would he spend his days reminding us of our shortcomings, demanding again and again prayers of repentance and sorrow? Would the loving Creator wave his hand and say, "You are forgiven, now—go and sin no more," without lifting even one finger to empower us over our sin?
Sometimes an extreme example is necessary to grab our hearts and free our minds. Does God's grace mean only forgiveness, or is there something more to his antidote for sin? Would God leave us alone in our rage, our addictions or our isolation? A cold and comfortless God he would be if it were so.
The problem is not with the Father, nor his grace: It is our understanding of his ongoing work in our lives. Jesus will not leave us to ourselves any more than he would leave a beggar in the street. Anyone who suggests so misrepresents the true grace of God.
Who could need more than the grace of God? It's not that we need something more than God's grace, it's that we need all of his grace, even the parts we would prefer to ignore. Take a moment and give it some thought: How might God's grace be available in greater measure than we have known before? I'd love to hear your thoughts.
This article originally appeared here.