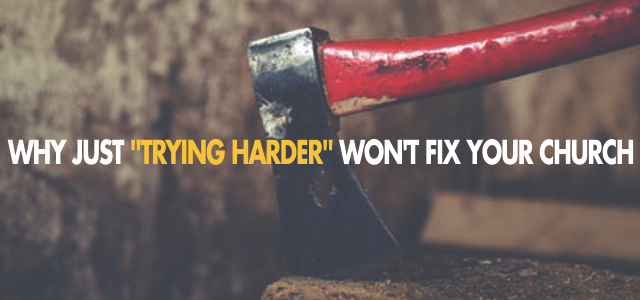 Conventional wisdom tells us that when things get difficult we just need to work harder, work smarter or somehow upgrade the quality of our work. But what do you do when trying harder doesn't work? It may that it's time for you to stop doing the same old thing with more effort, more efficiency or more quality. It might be time for you to stop trying harder and try different. It's time to try something entirely new.
#1 New Vision
Vision answers the question, "Where are we going?" It's simply the "next hill" that you're taking. It's the ability to understand the times, know the right direction to move, and involve and inspire people to go there with you. The problem with vision is that it needs to be refreshed every three to five years. Because once you've taken the hill you have to identify the next hill, or the church loses momentum and gets stuck.
#2 New Structures
Your church is perfectly structured to get the results you're getting right now. However it's not uncommon that a church outgrows a structure that served you well in a particular season and size. That same structure can become a lid to future growth. As a church grows, the need to restructure can occur multiple times in the life of a church. The way the church board is structured, the way the staff team is structured, the polity of a church and the structure of the church budget can all become lids to growth if they don't change over time as the church changes. Don't like the results you're getting? It might be time to build a new structure.
#3 New Systems
Systems help us answer the question, "How are we going to reproduce this?" It could be reproducing disciples, leaders, church plants, new multisite campuses or a consistent weekend worship experience at your church. Systems are made up of complex independent parts working together to perform a function (for example think skeletal system or solar system). For our purposes building a system is the art of connecting the Core Values, Structures, Strategies, Goals and Vision to work in alignment that builds a culture that leans towards fulfilling the Mission. It may be the reason your church has become stuck is that you've outgrown some of your systems.
#4 New Voices
When things get difficult we usually start with ourselves for the solution, "What can I do to fix it?" If we can't solve it on our own we usually turn our attention to our coworkers, friends and finally our networks. What if the solutions to your biggest problems are outside of your normal relational web? What if it was time to get new voices at the table, get outside your industry and tribe to look for new solutions? If you're ready for a new voice to help your church get new new solutions I'd recommend you take a step and connect with the Unstuck Group.
This article originally appeared here.