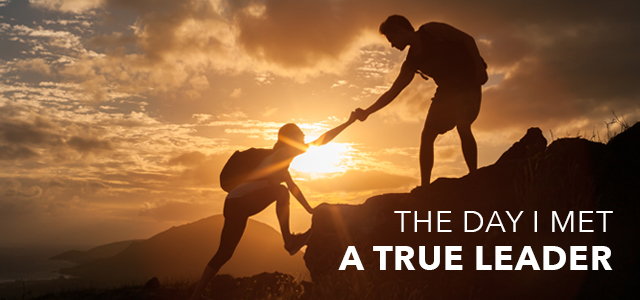 So last week was my wife and my 28th wedding anniversary. Our plans for the evening included dinner and a movie. But that was about to all change. After enjoying a nice dinner, we walked out of the restaurant and got in the car, ready to go to the movie. I pushed the start button on the car and…click…click…click. What??? We couldn't believe it! The car was dead. Nothing. We immediately got that sick feeling in our stomach…you know that feeling you get when you suddenly realize you're in a bind at the worst possible time.
I looked down the street and about a block away I saw a car repair sign. I also looked at my watch and saw that it was 6:00 p.m. Even if they had an opening at the repair shop, they were probably about to close. But I didn't have any other options, so I walked down there.
As I walked up to the store, there were two men looking under the hood of a car. I explained my dilemma, expecting to hear "there's no way we can get to it today…especially since it's closing time." But that's when I met a true leader. One of the men said, "I'll be glad to take a look at it." He walked the block with me back to my car and spent the next 30 minutes getting the car started so we could drive it to the shop.
As I talked with him, I was surprised to find out he was the owner of the business. In fact, he owned eight of the car shops across the area. First thing I learned by watching this leader was this: True leaders are servant leaders. Even though he had several employees working, he was willing to take care of our car personally. As I interacted with some of his employees, they told me they loved working for him because he doesn't just bark down orders. He gets right in there and works with them. Whatever needs to be done, he is always willing to jump in and get his hands dirty. I believe this is one of the biggest keys to effectively leading people. Jesus modeled this when he washed the disciples' feet, didn't He? He showed us that true leadership means leading with a towel rather than by a title. It's not about how many people are serving you, it's about how many people you are serving!
I also learned from watching this man that true leaders put other people first. His employees also told me that he has led them to always put the needs of the customer first. And I saw it firsthand. He and his team stayed over, past their closing time, to take care of us. He even asked what time the movie started we wanted to see and said, "I'm going to make sure we get your car fixed so you can get to that movie on time and if we can't, I'll be glad to drive you there myself." You see, a true leader walks in and says "there you are" rather than "here I am." A true leader puts others in the spotlight. A true leader invests in others. A true leader makes others better.
Another thing I learned from watching this man lead was this: A true leader goes the second mile. When they figured out what part the car needed, they didn't have it in stock. They would have to get it from a parts store. Only problem…it was past delivery hours. This meant they would have to drive to the parts store to get the part. Guess who volunteered to drive to the parts store? You got it. The owner! While they prepared my car for the part, he drove to the store and got the part. And it wasn't about the money. It wasn't a big ticket part. For him, it was about doing whatever it took to lead well. You see, going the second mile rather than quitting after the first mile is what separates great leaders from good leaders! 
As I walked into the waiting area of this man's store, I saw another sign of a true leader. In the lobby were pictures of the store in shambles. You see, two years earlier, a tornado had come through and completely destroyed the store. But he didn't give up. He rebuilt the store. A true leader doesn't quit or give up when faced with adversity and hardship. Good leaders can lead when things are going well. Great leaders can lead when things are not going well. 
Finally, as I talked with this man's employees, I found out that they had all been with him for many years. A true leader inspires loyalty and longevity. People only work long-term for someone they know cares about them. They only stick with someone they love and respect. And that is something that is earned. You earn it by people seeing in you the things we have talked about above.
Guess what? This amazing leader got my car fixed in time to make the movie, and he earned my continuing business with his kindness and efficiency. I left his business feeling cared for, confident in his work and valued as a customer. That's what true leaders do. Whether they are leading a business or a ministry.
Be a true leader by being a servant leader.
Be a true leader by putting others first.
Be a true leader by being a second-miler.
Be a true leader by sticking it out when times get tough.
Be a true leader by earning people's love and respect.
This article originally appeared here.