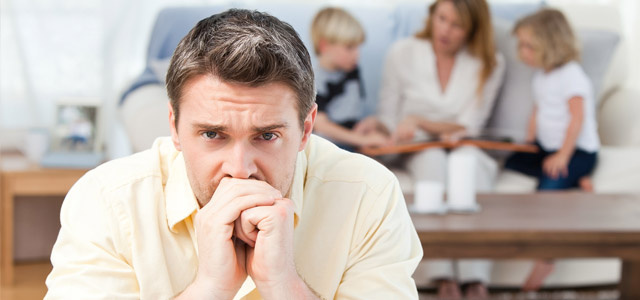 The walls of our church's nursery needed painting. So there I was, on my regular day off with a brush in my hand. A country song I'd never heard before—"The Dollar," by Jamey Johnson—filled the room as I splashed the first coat of something called Polar Bear over the entrance door.
You may be wondering at this strange confession of a native New Englander: painting to country music. I'm not sure how it happened either. But God will use almost anything to get our attention. The song is about a little boy whose father always seems too busy working to spend time with his son. So the boy saves his pennies and by the end of the song, makes an offer to his daddy:
Mama how much time will this buy me
Is it enough for just an afternoon a day or a whole week
If I'm a little short then how much more does daddy need
To spend some time with me?
Standing there, mid-stroke, I froze. What am I doing here? Have I stolen time from my wife and girls, to spend it in this empty room? And suddenly, the bitter irony of my crusade to serve my church at the expense of my family showed through, as that old ugly blue showed through my first coat of white.
Among young pastors and church planters, there's no less than a deluge of pressure to give every waking moment to our churches, to the neglect of our families. But brothers, it should never be so.
Below I want to offer four lies that can cause young pastors to neglect their families:
1. I can poorly lead my family and powerfully lead the church.
As pastors, our leadership of the local church is never more important than our leadership at home. Consider some familiar verses: "He must manage his household well…for if someone does not know how to manage his own household, how will he care for God's church? (1 Tim. 3:4–5)."
At the front door of pastoral ministry, we find that if a pastor isn't a family man, he's not a church man. Notice that for those who have families, caring for them well is a prerequisite to the ministry. Elders must, before accepting the office, be exemplary in investing in and leading their families well.
Pastors, especially church planters and those coming into a new church, are strongly tempted to bend these family qualifications for the sake of their new flock. But if God would approve and bless our shepherding, we must shepherd those closest to us: our families.
2. My family will admire my work-a-holism because it's for Jesus.
If we give all our time to the church at the expense of our families, it won't translate as devotion to Christ. Instead, our families will rightly see it for what it is: an unhealthy obsession with ministry. It smacks not of devotion, but selfish ambition.
On the other hand, we can be sure that the ultimate proof of devotion is presence. We can tell our families we love them, but wherever our highest commitment is, there we will be. Even a 5-year-old understands this. We cannot baptize neglect. We are either present and engaging our loved ones—or we aren't. And if our love for Jesus means we cannot love our families, then we're tempting our families eventually to resent us, the local church and even Jesus.
3. After I put the church in order, then I'll invest more at home.
If you're at the front end of a church plant or revitalization, chances are there are some large pieces that need to be put in order. But the truth is, your church will never really be "in order." There's always another mountain to climb or fire to put out.
We would do well to borrow that old slogan Semper Reformanda. Our local churches are always reforming. Some churches are healthier than others. But if we delay fully engaging at home to put our churches in order, we'll never get around to giving our families the time and attention they deserve.
4. If I don't give the church everything, it will die. 
This is not only a rookie mistake; it's a theological one. Christ is the head of his church—not us. And when we run ourselves ragged, when we neglect our families, we aim to stand in the place of the risen Lord Jesus, the Alpha and the Omega in Revelation 1, the one whose eyes are like fire.
As pastors, we must concern ourselves with simply being faithful because it's God who brings growth to his bride. Yes, we should work hard, and we should work wisely. But we also need to trust God with our efforts among the body as we give first priority to our families. Christ is the head of the church, not us. And that's a good thing.
As we struggle to apply all of this, we will fail. But God, in answer to prayer, will pour out his great grace. Ask God for the faith to entrust your local church to him.
Let's not resemble the man in Song of Solomon: "They made me the keeper of the vineyards;  but mine own vineyard have I not kept" (1:6).
Our families are the closest people to us, and so our responsibility to disciple them and wash them in the Word is greatest.
Pastors, let's trust God, and keep our own vineyards.
This article originally appeared here.