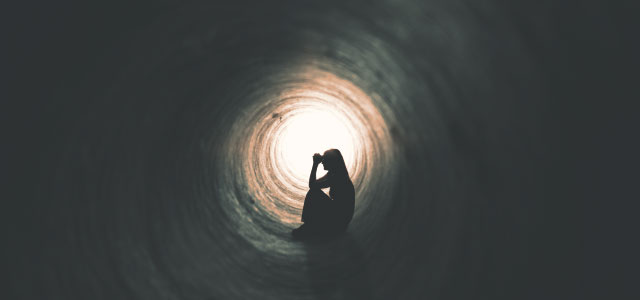 How to Find Freedom From Regret
I have a question for you, and it's not a hypothetical one: How would your life change if you truly learned to live in the moment?
This moment.
Right now.
In what ways would your experience today be different—maybe radically different—if you learned to let go of the past and decided to stop worrying about the future?
I can almost hear the groans of some who think the idea of living in the moment is either silly, stupid or impossible.
"There's nothing wrong with planning!"
"People who live in the moment live in La-La Land!"
"My past matters and my future is up to me!"
I can relate to these comments because I've used them all. Often.
So, let me clarify a few things.
There isn't anything wrong with planning, and certainly our past significantly influences our present. Living in the moment does not mean living haphazardly, irresponsibly or foolishly.
Being fully present in the now does not mean we ignore our past or pretend it doesn't matter. It does.
But here's my point, and it's important: Since we can't change our past or completely control our future, the best we can do is to live focused on what's happening now.
Living with regrets, shame, guilt or anger about what has happened isn't healthy.
Living with fear, worry or anxiety about what might happen isn't good either.
The only thing you and I can in any way control is the present.
I can't undo what's been done, and the future is pretty much out of my control too. For all I know, a meteor could land on my house tomorrow or an earthquake could end my life a minute from now.
Nothing about yesterday is really changeable. Nothing about the future is truly controllable.
Yeah, I can and should grow from my past experiences. Hopefully, I'm getting wiser. And I can and should position myself for a better future by making better decisions now.
But that's why now matters so much, why I should let go of what I cannot change, and why I must stop fretting over what I cannot regulate.
I can control my thoughts right now.
I can control how I will respond or react to a situation or person today.
I can choose to walk in Christ and draw whatever I need from Him at this moment.
I can live free from regret and free from worry.
However, there is far more that I cannot control in my life.
Jesus put it this way in Matthew 6:34 (NIV), "Therefore do not worry about tomorrow, for tomorrow will worry about itself. Each day has enough trouble of its own."
Jesus didn't say we should never think about the future; He said don't worry about tomorrow and stay focused on today.
Furthermore, in the book of Hebrews, the author quotes Jeremiah as he reminds us of the way God looks at our past. "I will be merciful when they fail, and I will erase their sins and wicked acts out of My memory as though they had never existed (Hebrews 8:12 The Voice).
Here's the thing: If God doesn't hold my past against me, why should I?
Too often, too many of us are bound either as a victim or a perpetrator by what has happened in life. And way too frequently, a lot of us are crippled by fear or worry about the future. That's why living outside the present moment is so futile and damaging.
Joy comes to those who live—fully live—in the moment. In the here and now.
If you stop and think about it (and please do), being fully present now is a way of life that will set you free from the angst of regret and free you from the fear of "what if."
So, live now and live free.
Yes, it is that simple.
This article originally appeared here.