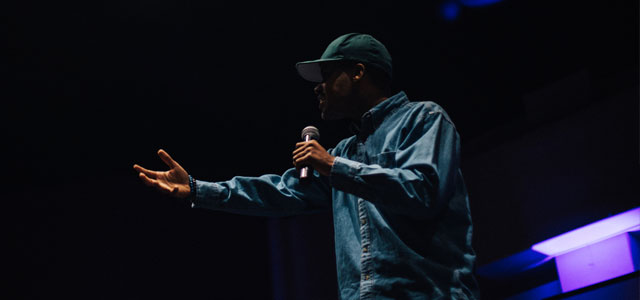 I grew up in a church where visiting evangelists would scream, then gasp for breath, then scream a little more. They walked around on the stage and sometimes down the aisles, red-faced and often carrying a handkerchief to wipe away the sweat they'd collected on their foreheads. I remember being scared that they would know my sin and start yelling at me in front of the entire congregation. Other people want effective pastoral leadership to preach in soothing and subdued tones, or to be conversationalists, storytellers, or great eloquence and a poetic cadence.
Honestly, I have little interest in debating what style of preaching is best. God can certainly use a variety of personalities to do his work.
What concerns me, as a pastor, is the nature of the content I actually share, whether with an audience gathered on a Sunday or those who may read blog posts and tweets.
Effective pastoral leadership means learning there are three particular voices in which pastors must be willing to speak, and balancing these three is the pathway to the long term discipling of a body of people.
1. The Pastoral Voice
Jesus, the Great Shepherd, said, "My sheep listen to my voice; I know them, and they follow me." (John 10:27 NIV)
It's a beautiful picture, isn't it? The Shepherd, who cares so deeply for the wellbeing of those in his flock, speaks in a voice commanding enough to convey security but not so harsh as to be threatening.
I can only imagine what it would have been like to encounter Jesus during one of his seasons of public ministry. I'm sure I would have found his teaching convicting, but I would also certainly have known that he cared about me.
In a world where the people who attend your church are beaten up and stressed and living on the ragged edge, especially during a year like 2020, it is vital that they know they are cared for, and at least part of that assurance is communicated in your voice.
I've had to work on my pastoral voice. Sometimes I can sound haughty as if I know the answers better than anyone else. Sometimes I sound combative as if I'm looking for an argument. But what I really want is to sound winsome and welcoming.
That's the pastoral voice – the voice that lifts up the fallen and holds up the broken and catches up with people in the middle of their pain.
2. The Practical Voice
James, the half brother of Jesus said, "Do not merely listen to the word, and so deceive yourselves. Do what it says." (James 1:22 NIV) And as my old Pastor, Rick Warren has often said, "We already know way more than we're doing."
In other words, our preaching, teaching, and writing should offer practical solutions and steps for living out the will of God. It isn't enough to simply convey Bible facts when the very purpose of the Bible is to transform the lives of people.
In being practical, we connect the eternal truth of God's Word to the daily walk in which every believer lives. We get to give them not only a higher aim and vision about life, but tracks to run on in order to achieve that higher life.
3. The Prophetic Voice
As Paul instructed young Timothy, we must, "Preach the word; be prepared in season and out of season; correct, rebuke and encourage—with great patience and careful instruction." (2 Timothy 4:2 NIV)
I love encouraging:
You're going to be fine!
Everything is going to work out.
Don't worry. God sees you and he cares.
What I don't love so much is correcting and rebuking. But when you are called to represent the Creator as a mouthpiece to his world, you must at times address the sins and stains that are entirely human in origin.
The difficult calling of the Old Testament prophet was carrying God's word to the people of Israel about their sin. Not the sin of the surrounding community or the world outside the flock, but the sins that the Israelites themselves were guilty of committing.
People will receive a prophetic word of correction or rebuke much more easily if they've already heard the pastoral and the practical.
I once attended a funeral where a distant relative was preaching the message. He said in his very southern Kentucky voice, "If you don't' know Jesus, I say this in love, but you're going to hell!"
While I wouldn't debate his theology, I'm not sure I believed he really loved me. After all, he didn't know me. Or very many of us in the room that day.
Truth lands best on the soil already prepared by love and patience.
The world needs your voice. When God has placed a word inside you, you simply must let it out. It has to be offered to the intended hearer so that it can be fruitful. Effective pastoral leadership boils down to a willingness to preach in tones that are pastoral, practical, and prophetic.
You'll know which voice to use when the time comes.
This article on effective pastoral leadership originally appeared here, and is used by permission.