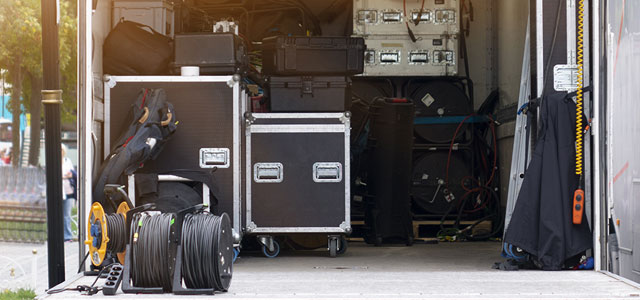 Portable Stages For Churches
Some meeting halls like theaters, school auditoriums, and gyms come with stages. However, if there is not a stage available for you, then you are going to need a portable stage. Let me warn you. These are not cheap so you may want to consider that when you are deciding on where to meet.
You can get different shapes and sizes of portable stages. The standard shapes are rectangular, wedge triangles, and semi-circles. They come in different heights as well. So a small movable stage could cost you as much as $2.000.00
Portable Church Stage Design
They say a picture is worth a 1,000 words. Well, that is true in stage design. However, you can plan on some of the basics.
Place your PA speakers at each end of the stage. Place your monitors near your vocalists or musicians. Try to keep your musicians behind your vocalists unless they are the leader of the group.
Position your bass guitarist near the drummer and the guitarists and keyboardists together.
If you have a wide room, place your projection screens on each side of the stage, and if a narrow room, in the center of the stage.
Place a stage backdrop at the back of the stage and stage banners right in front of the backdrop.
Portable Stage Backdrops
Stage backdrops are not expensive. You can get them from Amazon for under $50.00 This is an excellent investment for your portable church.
Nothing is uglier than a plain wall or doors, or other things on the wall that are not part of your church's setup. Trust me I know. I once used a gymnasium that had old jerseys of former high school players behind me while preaching.
Church Stage Banners
You can place beautiful church banners on your stage for events like Easter, Christmas, or just different seasons or themes. Our church is a charismatic church, and we have banners depicting the Holy Spirit. They can be a real visual enhancement to your mobile church setup.
With the portable church, banner stands this is easy to set up and tear down.