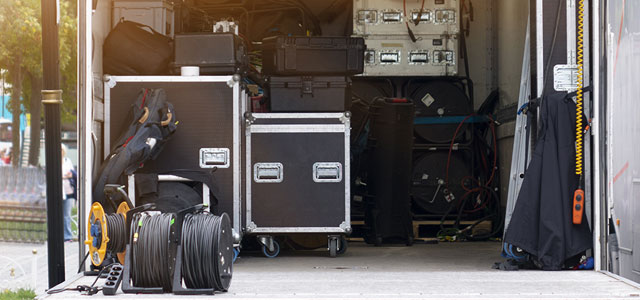 However, there are many options when it comes to wireless microphones. I have done a complete article on wireless vocal mics, lapel mics, and headset mics. I suggest you read that article and decide which mic system or systems would be the best for your situation.
In-Ear Monitors
Again I am going to recommend a wireless monitoring system. However, if you do not want to use wireless in-ear monitors, then I suggest the Kustom KPC4P Powered Monitor Speaker. They are a pretty standard powered floor monitor. You can use 1 or more to give sound to your musicians.
However, if you want to go light and wireless, I suggest you look into wireless in-ear monitors like the ones I have recommended in this article. This system is not only compact, which is essential for a mobile church, but give the most control to your musicians, once again shortening your set up time.
Powered Speakers
In a traditional sound system, you have a power amp that gives the power to make the speakers work. In a portable system, I recommend that you use powered speakers and have one less component to set up. Remember, fewer cables and fewer parts mean less work for your volunteers.
Once again I am going to suggest a couple of powered speakers for you to consider. They are not the cheapest, but they are from reputable brands in the pro-sound market.
The Peavey PV215D 800w Powered Speaker
Peavey PV215D 800w Powered Speaker
Peavey DUAL 15″ POWERED 2 WAY LOUDSPEA
Pro SPEAKERS designed for DJ
On board Feedback locating system,Digital multi-effects,Seven-band graphic equalizer
Everything you need to rock the house
Poratble and powerful PA
Legendary Peavey reliability
If you buy from Amazon, we earn a very small commission at no charge to you.
Peavey makes a great powered speaker system. These powered speakers deliver 400 watts of power which is louder than you will ever want your church sound system to be. The setup is effortless with 1/4 inch input jacks.