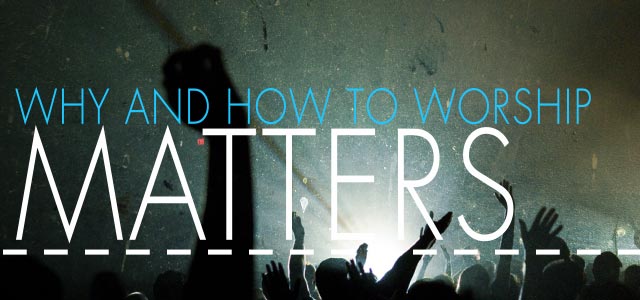 Worship involves physical expressions founded upon biblical guidelines; they are neither ritual, perfunctory actions, or the serving of emotions for their own sake. Among the physical expressions of worship found in Scripture are kneeling, clapping hands, raising hands, verbalized praise, singing hymns and psalms, weeping, laughing, bearing witness aloud ("Amen"), reading the Word aloud, prostrating before the Lord, speaking in tongues, dancing before the Lord, giving public testimony, standing, silence and spiritual song. In just a single chapter (20) of 2 Chronicles, 11 different Hebrew verbs for active physical worship are found.
In his epistle to the Romans, the Apostle Paul proclaims the glory of our Lord and the motivation for our worship: "Oh, the depth of the riches both of the wisdom and knowledge of God! How unsearchable are His judgments and His ways past finding out! … For of Him and through Him and to Him are all things, to whom be glory forever. Amen" (11:33-36).
And then he summons us to worship with what can be considered our only appropriate response to such magnificence: "I beseech you therefore, brethren, by the mercies of God, that you present your bodies a living sacrifice, holy, acceptable to God, which is your reasonable service. And do not be conformed to this world, but be transformed by the renewing of your mind, that you may prove what is that good and acceptable and perfect will of God"(12:1, 2).
Thus, the Bible calls us to: present our rededicated bodies by kneeling, bowing, raising our heads and hands, and dancing before the Lord; present our revived emotions by shouting and clapping to the Lord, praising aloud, rejoicing and expressing thanksgiving, or by being silent before Him in the beauty of His presence; present our regenerated spirits by worshipping in the Spirit, singing spiritual songs and giving thanks; and present our renewed minds by obedient, orderly, intelligent, sensitive worship with understanding. Even spontaneity must have some point of discipline and control (see 1 Corinthians 14:40).
The Lord is not displeased by our reticence to the physical expressions of worship, but when we present ourselves wholly open before Him, the compounding of both our life in Him and of His beauty in us takes place. We are made more whole—and holy—in the likeness of Jesus. The weight of His glory begins to seep through our system. Our identity becomes more secure and established, and our sense of sufficiency in the life of Jesus Christ increases.
The Lord says in Romans 14:11 that one day every knee shall bow and every tongue shall confess Him. Therefore, we are summoned to present our bodies, emotions, spirits and minds to Him in every biblical form of expression as He would graciously teach us. And when we worship as His appointed "priests," we invite and administrate His glorious life, purpose and power to be realized not only in our lives, but also in our world.
Copyright 2014 by Jack W. Hayford. All rights reserved. Used by permission from Jack Hayford Ministries.
Find out more about The King's University's Spirit Formed Worship Conference 2014 here.