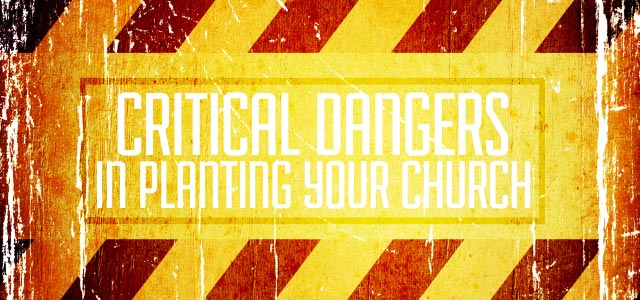 NOTE: This article originally appeared here on Tim Chester's blog.
1. Planting a replica church.
This church plant is a clone of your sending church or your own previous experience. This tends to be what happens if you don't think much about the culture and values of the new church. You default to your past experience. This, of course, may not be an altogether bad thing.
But it is a missed opportunity. Church planting is an opportunity to rethink church, creating patterns of church life that are more faithful to Scripture and more relevant to the culture. The other danger is that you try to be a large church with a small church planting team instead of seizing the advantages of being a small church.
What's good about this: You're a fool if you disregard 2,000 years of church history. So we need to learn from Christian tradition and appreciate the Spirit's work through the church in the past.
Constructive principle: Be creative.
2. Planting a reactionary church.
This, in some ways, is the opposite of a replica church. This is what happens when people have had a bad experience of church. Church planting for some people is a way of running away from church rather than resolving issues or reconciling broken relationships.
For other people, the church plant is defined primarily in terms of what it's not. People know exactly what they don't want church to be like. But without a positive vision, the resulting church tends to have a negative culture or a culture that's suspicious of other churches or that feels superior to them.
What's good about this: We don't want to repeat the mistakes of the past, and church planting is an opportunity to create something fresh—as long as you have a positive, biblical vision for what you want to be.
Constructive principle: Be positive.
3. Planting a romantic church.
Remember all those conversations over a drink on a Sunday evening as you dreamed with your friends of your ideal church? Perhaps you dreamed of meeting in a coffee shop with some mellow jazz music in the background while you discussed faith with your friends over a latte. Perhaps you dreamed of rocking out the Christian classics you grew up with. Perhaps you dreamed of hour-long sermons rich with theology.
And now your church plant is a chance to create this church of which you and your friends always dreamed. The problem is that, while you might create a church ideally suited to you, the chances are it will not be missional. Your personal set of favorite features won't necessarily create an ideal context to invite unbelievers into (which also means it won't be an ideal church for Christians either, for healthy Christian living must be missional).
What's good about this: Church planters are often idealists driven by a vision of what could be. This will help you push toward creating a church that continually attempts to be more biblical and more relevant.