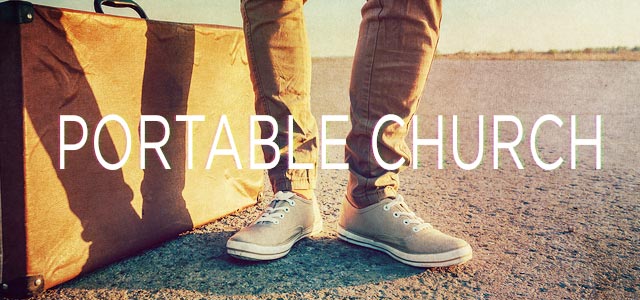 Portable is flexible. Portable is nimble. Both are opportunities that we can miss.
3. Mission and vision are building independent.
We discussed the challenge of keeping a mission permanent in a non-permanent location above, but we should recognize the mission and vision are not directly connected to a building. In fact, I've seen a building significantly hamper a mission and vision more than once! Unfortunately, many churches have allowed their building to BECOME their mission and vision. They spend more time talking about building upkeep than evangelism (and more money, too).
The church meeting location is one of many tools in the hands of your mission and vision. Some might want a hammer, but let's not miss the opportunity a Swiss Army Knife can provide.
4. Identity should be defined by the people of the church, not the place they gather.
The church is not the building. The church is not the building. The church is not the building. That needs to be taught in every church. Maybe once a year.
We know the church is the people, but that's not common knowledge to church people, making owning an identity a challenge in a temporary location. But the opportunity to craft a better identity in a portable facility far outweighs the challenge. Think of it this way—creating a unique and true identity for your church in a portable location requires putting people first, because the identity CANNOT be the building when you don't have a building.
5. Starting portable positions people to succeed.
When done right (we'll look more at this in the following post), starting in a portable fashion allows for deeper buy-in and core building, something necessary for long-term success in a church. Sure, having a building would simplify some areas of church orchestration, but luxuries better attract consumers than contributors. Every church needs a healthy core group of contributors. The portable church creates the perfect context for us to build the core.
6. Resources can be ministry facing, not debt repaying.
Especially in the beginning, maximum resources should be funneled toward ministry. Taking on a large building campaign and debt service too early straps the mission and vision with a non-ministry handcuff. At some point, a building campaign is the best next step, but that must come on the heels of establishing the church's identity, ministry and financial stability.
Again, getting into a permanent facility will be advantageous at some point in a growing church's lifecycle, but to ignore the advantages and opportunities of the portable church is to miss the opportunities portable can provide.
If you are in a portable church, what opportunities has it provided?
Bring on the Pipe and Drape!
Any opportunity, regardless of size or potential, is worthless when not leveraged. In the world of portable church, this is certainly true. So many church leaders (and attendees) allow the challenges of portable church to overwhelm the possibilities. In some cases, I've even seen pastors lose their passion for the church in the face of portable challenges.
But being a portable church does not have to be a necessary evil while waiting for your own building. There are ways to make the portable church succeed, and in doing so, possibly influence more people toward Jesus than you could if you owned a building.
Here are five specific ways we at Watermarke Church have found success in a temporary facility for over six years. Again, we have NOT cornered the market on portable church, but we've certainly learned a thing or two—especially considering the logistics required for us to house an average of 5,000 attendees in a school.
1. Improving the facility helps you AND them.
There are few places where your capital expenditures go further than in your portable facility. It's a little counterintuitive. Why invest money in a building that isn't yours? But whether it's improving the sound system, adding production lights or painting the walls, your dollars gain goodwill with the leaseholder and help your environments in the process. It is almost a second-mile moment for the church.
Watermarke Example: We have done a lot of leaseholder improvements over the years. In fact, when we moved into our current portable facility some five years ago, we spent time and money building a stage, installing a new sound system, painting the walls and much more. These improvements certainly helped our church environments, but they equally helped our relationship with our building owner. The school is able to leverage our stage, use our sound system for school functions and, believe me, they now have the BEST production auditorium in the county!
The tertiary benefit is all the parents and friends of students who attend any function in the school see our production value and associate excellence with our church. Not too bad!