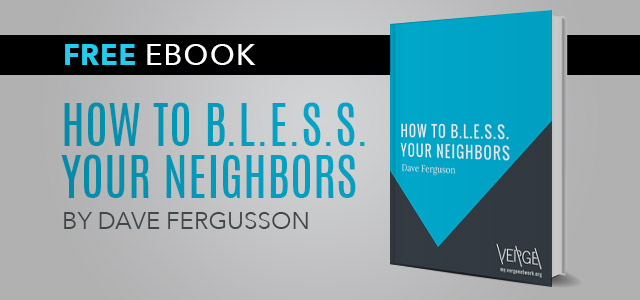 Free eBook
Eighty percent of people will act their way into a new way of thinking and behaving.
And there's a lot of confusion about what the Jesus mission really looks like. Many people don't have a clear understanding of what it is and how to live it out in everyday life.
There hasn't been a clear set of missional practices that people could utilize to "act their way into a new way of thinking."
Until now.
This B.L.E.S.S. strategy shows, in a very practical way that's theologically grounded, how anyone can be a blessing and reach people in places where they are living out the good news of Jesus.
In this free eBook, a transcription of a message Dave Ferguson gave at the Verge Conference, you will learn:
A clear understanding of missional living
The 3 simple parts of the Jesus mission that you should be aiming for in your church
The 5 missional practices that can be incorporated into anyone's life and schedule
How the BLESS strategy can change your life and church
…and much, much more!
Resource provided by Verge Network 

Download Instructions: Follow the on-screen directions at the download site.