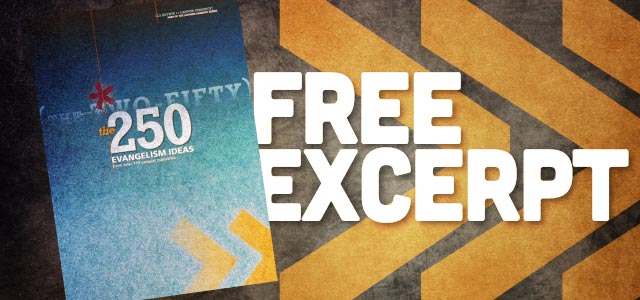 Download these free ideas from Cru Press Green, Creative Evangelism Ideas. Cru is an international nonprofit parachurch mission organization committed to equipping and empowering people to know and follow Jesus.
Cru Press Green: Free Download
From Cru Press Green: "This is a section taken from the book The 250: Creative Ideas for Evangelism, which can be ordered at the CruPress store. 
Here are 250 proven strategies used on campuses around the country. Creative, effective, cutting-edge ideas compiled from 170 Campus
Crusade movements. Give a copy to student leaders and it will not only give them ideas, but inspire their own creativity in reaching the
campus.
The 250 is organized by the following topics:
Modes of Evangelism: prayer evangelism, ministry evangelism,
natural evangelism, and body evangelism.
Student Groups: athletes, ethnic students, freshmen, fringe groups,
greek students, international students, and men/women.
A Miscellany: church partnerships, holidays & seasons, focus groups,
questionnaires, service, speakers, and ideas for the future.
Resource provided by Cru Press Green
Download Instructions: To download this resource, click on the CPG.pdf file icon at the right.