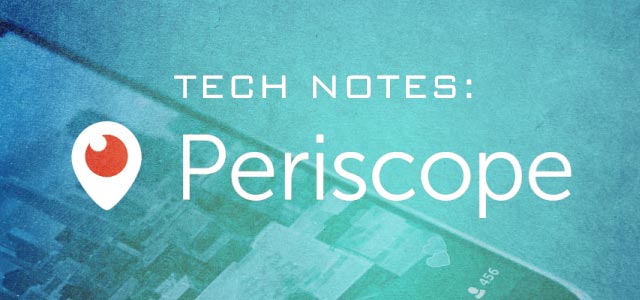 There has been quite a buzz over the last few weeks about Twitter's announcement regarding their acquisition of a new app called Periscope that can change the way we share experiences with each other via social media.
What is Periscope?
Periscope is essentially a live streaming app that links up with your twitter followers. So when you start a new broadcast (live video), your twitter followers who are also on Periscope are notified. They can then watch your broadcast and comment via text while they are watching. You then have the option to allow people to view your broadcast at a later date.
I know, it sounds confusing, and honestly, I think the user interface is a bit confusing at first. But once you join a broadcast and try it out the first time, it'll make more sense. It becomes really fun to use.
The smartest churches are adopters of new technology and understand that engaging with new forms of communication can help them reach their community more effectively.  You now have that opportunity with Periscope.
How do I use Periscope?
Periscope must be linked to a twitter account. I recommend you use your church's twitter account with Periscope. If you don't already have a twitter account, get started here.
For more twitter tips, check out my blog on 5 Simple Twitter Tips For Churches.
Download the Periscope App.
Once your twitter account is set up, download the Periscope app here. You'll be asked to allow Periscope to send you push notifications. Say yes because otherwise you will not know when your friends or followers are live broadcasting.
It might feel awkward the first time, but go ahead and try out your first broadcast in your church office.
Here is a picture of our Vanderbloemen Search Group Periscope profile.
When I click the center button at the bottom of our profile screen, it'll start initializing a broadcast. Press the "start broadcast" button in red below and start showing off your awesome staff culture.
How can my church leverage Periscope?
Here are four ways your church can leverage Periscope to engage with your community via social media.
1. Church Staff Culture
Demonstrate your church staff culture by doing a live broadcast around your church office. Interview a team on your staff. What is the Children's Ministry staff up to this week? What is the Student Pastor planning for the next youth service?
Use a Periscope broadcast to show off how approachable and fun your team is.
2. Q&A With Your Pastor And Staff
Use the topic of your pastor's sermon last week and conduct a Q&A with him through a Periscope broadcast. Perhaps he's gotten emails with questions or comments about the sermon. A Periscope broadcast is a great place to address those questions. Maybe your pastor or another staff member has a weekly Periscope where he or she inspires your church community to apply the principles being taught in the services or small groups. If it's at the same time and day each week, invite your congregation to join via live video on Periscope so you can continue to encourage them to apply Scripture to their lives this week.
3. Tour Of The Church
Did you know that the number one thing visitors are looking for on your church website is to find out how to dress when they go to your church? Why not do a Periscope broadcast of a tour of your church building where you can show people that it's not intimidating and a really welcoming place to come.
This is also a great opportunity for you to show off your kid's ministry area. One of the greatest concerns parents have when visiting a new church is, "Will my kids be safe and will they have fun?" A Periscope broadcast showing off your kids area is a great way to break down those barriers for new parents to your church.
4. Upcoming Events
Periscope along with twitter, facebook, and instagram is an excellent way to promote your upcoming church events. Periscope brings a new level of engagement to social media because you can feel like you're a part of the team promoting it. Have your team show their excitement via live video. Perhaps you send out a message to your church community that you'll be giving a sneak peak into your upcoming event at 2pm on Wednesday via Periscope. Invite people to be a part of your excitement.
Communication is changing rapidly as new technology is released, and the church should be on the forefront of leveraging new technology for the Kingdom.
These are just a few of the ways you can use Periscope. What are your suggestions?