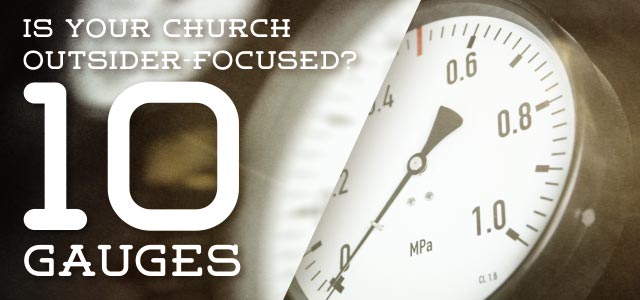 There is a tension that exists in most churches in America, a tension between being outsider-focused and insider-focused. The majority of churches I've worked with would affirm in principle that the Bible teaches us that the church should be focused on what Jesus is focused on, and that's people who are outside of the faith meeting and following Him. However, in practice most churches focus the majority of their budgets, staffing, energy and efforts not on reaching outsiders but keeping insiders happy. This leads to churches being insider-focused and missing the mission that Jesus has called His church to.
Not every church is insider-focused though. Some churches do a great job embracing the mission of Jesus and being outsider-focused. In fact, here are 10 characteristics I've observed in churches that are outsider-focused.
1. Attenders Aren't Embarrassed to Invite Friends.
Simple enough. Regular attenders know that if they bring their friends who are unfamiliar with Jesus and His church that they're going to have a great experience and that it's going to be helpful to their everyday life. There is no cringe-factor that is preventing them from bringing their friends.
2. Guests Are Showing Up.
Guests are actually showing up and you know it when they show up because you've developed a system and strategy to make it easy for first-time guests to self-identify and receive the help that they need to navigate your church for the first time.
3. Guests Are Coming Back.
This is big. Guests had such a good experience the first time that they came that they actually came back. You know they came back and you thank them for coming back.
4. New People Are Saying Yes to Following Jesus.
Again, seems simple enough. You know your church is outsider-focused if people who are outside the faith are meeting Jesus. This means you're being intentional about presenting the Gospel and giving people the opportunity to respond.
5. New People Are Being Baptized.
Healthy growing churches in America are baptizing 10 percent of their total weekend attendance. That means a healthy church that averages 500 people on the weekend this year will baptize 50 people. But of course you'd know that if your church has participated in the online version of the Health Assessment tool provided by the Unstuck Group and has bench-marked the health of your church.
6. New People Are Taking Next Steps.
An unappreciated evidence of an outsider-focused church is that they have intentionally thought through next steps and people are moving forward in their spiritual development by getting into groups, volunteering and giving.
7. Attendance Is Increasing.
May sound like a no-brainer here, but outsider-focused churches are growing churches. Is your church not growing? You may not be on mission with Jesus as much as you thought you were.
8. They Make the Bible Accessible.
Outsider-focused churches understand that people who are unfamiliar with Jesus and His church are also unfamiliar with the Bible. And so they are very deliberate about making the language that they use and concepts that they talk about biblically accurate while remaining accessible and understandable to the culture they are in.
9. They Work Hard to Be Simple, Not Simplistic.
They create systems that make it clear, simple and intuitive to get into a group, or volunteer, or give financially to the church. Notice I didn't say simplistic. The Apple iPhone is simple and intuitive to use, but it's not simplistic.
10. They Embrace the "New."
Outsider-focused churches create a culture that embraces "the new." They know that everything has a natural life-cycle, so they become incessant tinkerers. They're not afraid to start new things because they know new things attract new people. They are robust in their evaluation about their ministry environments and are candid about whether a ministry offering is reaching outsiders or developing insiders, and if the answer is neither then they stop doing it.