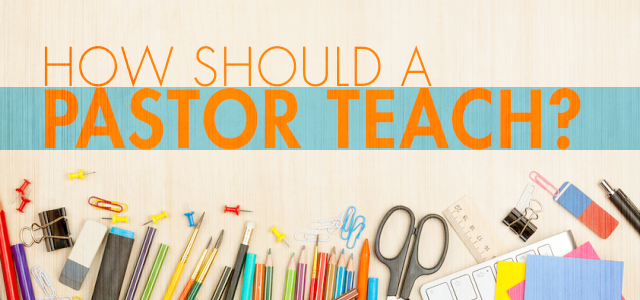 1. Teach Descriptively: It might seem difficult at first to do for some new pastors or perhaps even pastors emerging out from underneath a fundamentalist rock, but it is very important that your teaching style is not some kind of imposing or enforcing doctrinal monolog. We all know 2 Timothy 3:16, but when we teach as if we have been, are being and will be rebuked, corrected and in training, it is much more powerful. For a pastor to teach descriptively is to be a HUMBLE living, breathing case study, not just some know-it-all.
2. Teach Open to Questions: I didn't say teach ready for questions. Perhaps preparing like a lawyer will work for some of the folks in your class, but not most of them. Many folks will surprise you with great questions that come from a humble heart, so be ready to say, "Hmm, I've never thought of that. Let me look into it, but until then what does everyone else think." This will facilitate learning rather than snuff it out.
3. Teach Prepared: Spend time on lesson prep. Don't just put a DVD in and wing it. You will wind up saying the same thing every week without even noticing it … but your congregation will notice. Teachers learn twice. They learn in preparation and again in delivery. Don't rob your spiritual life as a leader by simply keeping folks busy. Instead inspire them with your diligence.
4. Teach Accessibly: One of the first things that I make clear when I teach is that I have a cell phone. I encourage people to text me questions, and I usually text them quotes or reminders during the year pertaining to the class.
5. Teach Musically: I alway enjoy starting with a hymn or song that will fit with the lesson to help remind us that learning is worship, not merely the obtaining of knowledge. If you can't sing, play it from your iPod.
6. Teach Contextually: Tim Keller, Judah Smith, Steven Furtick, Matt Chandler and John Piper are not always going to fit your people. You are not them, and they have not been called to your people. So remember to chew on the meat and spit out the bones for your folks to ensure that what they are learning fits them and their way of life.
7. Teach Creatively: You will need to be able to figure out how to spread the discussion. We all know about the comment and question hogs. Figure out un-intrusive ways of involving more and more spectators. Get creative with your class.
8. Teach, Don't Preach: When I preach, I am proclaiming to everyone what time it is. When I teach I am telling them how the watch works. In other words, details are welcomed in a teaching context. Sometimes as a pastor you can destroy any kind of discussion or interaction simply based on your delivery. Your class should not be tired of your voice by the end of Sunday morning.
9. Teach Prayerfully: Take time to pray for wisdom before you teach. Let this be a time where God can prepare you to minister to his people.
10. Teach Technologically: There are so many great pieces of technology that can truly serve a teacher well today. Do your research. Are there any apps or websites that your students should have?
11. Teach Biblically: Your textbook should be the text.
12. Teach Traditionally: Allow people to become familiar with how a particular text has been taught and understood throughout the ages. What have people said about what God has said in and through his Word?
13. Teach Experientially: You are not teaching rocks. You are teaching self-aware living image-bearers. All wisdom comes through experience. Your teaching should somehow come from a personal experience with the truth and be a tangible experience in and of itself.
14. Teach Reasonably: Why do you believe what you're teaching? Is it logical and valid? Can people follow your reasoning? Allow people to be exposed to their own solid or faulty reasoning as well.