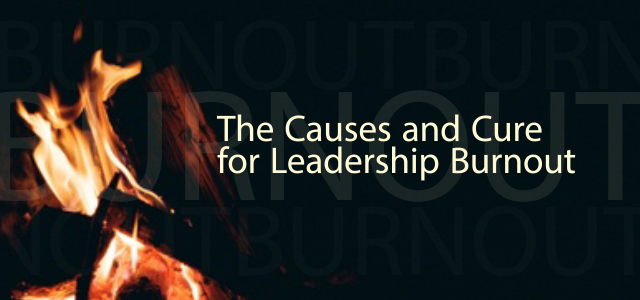 Leadership is tough. Good leaders understand this and manage their lives and leadership demands to avoid burnout. Sometimes, however, even the best leaders get burned out. If you're now facing it, examine the cause list below to see what factors may be contributing to it. Then, take one proactive step this week from the cures list to take better care of yourself.
Four Causes of Leadership Burnout:
1. Allostatic load
This term describes the wear and tear on our body from chronic stress. Our bodies have limits. Yet, when we are under stress for long periods of time, our bodies suffer. Prolonged stress causes sustained high levels of the stress hormone cortisol, which, along with an overabundance of other neurotransmitters and hormones, can cause heart problems, weight gain, impaired immunity, decreased memory due to brain cell atrophy and diminished brain functioning.
Chronic stress can shrink your brain.
2. Power stress
Richard Boyatzis and Annie McKee, authors of Resonant Leadership, coined this phrase to describe a kind of stress unique to leaders. "Power stress is part of the experience that results from the exercise of influence and sense of responsibility felt in leadership positions." McKee and Boyatzis explain that when the demands of leadership get so high and leaders fail to manage it, they risk becoming trapped in what they call the Sacrifice Syndrome. Sometimes we leaders feel so overly responsible for the success of our organizations or churches that we get caught in a vicious cycle of unhealthy sacrifice for others that leads to burnout.
3. Continuous partial attention
Linda Stone, author and consultant, developed this phrase to describe the mental trap we easily fall into when we constantly scan our surroundings to look for the best opportunities to spend our time on. It happens when we 'skim,' and pay attention only partially. When this happens to a leader, he will fail to focus on the most important tasks at hand and get further behind on mission critical issues. Then, he must rush to get the important things done, which contributes to chronic stress.
4. Multitasking
"Many leaders have convinced themselves that multitasking leads to greater productivity. However, researchers have shown that when we try to process two mental tasks at once, our mental capacity can drop from that of a Harvard MBA to that of an 8-year-old. And it can reduce our mental capacities as if we missed a night's sleep or smoked pot (Rock, 2009, pp. 34– 36). Multitasking can also diminish long-term memory (Foerde et al., 2006). Even college students who multitasked with their laptops while in a class scored lower on tests than did students who didn't multitask. And students who could see others multitasking also scored lower. So multitasking decreases others' productivity as well as our own (Sana et al., 2013)." (from People Pleasing Pastors: Avoiding the Pitfalls of Approval Motivated Leadership by Charles Stone).
In fact, research shows that multitasking can add up to a 40 percent loss of productivity in a day. This decrease in productivity is called task switch cost.
So, what can we do to combat these factors that lead to burnout? Consider these steps.