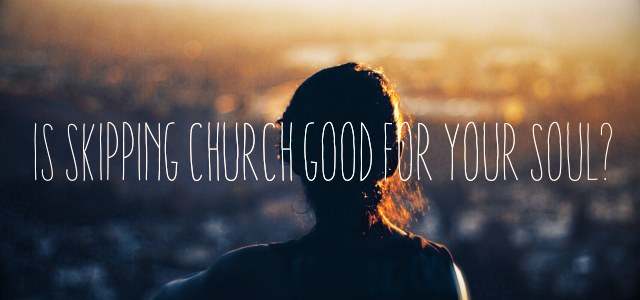 I'm a pastor. Pastors are supposed to go to church. So I go to church, several times each week. I've done that for decades. I can count on one hand the number of times I've missed church by choice. But one weekend I added to that handful of misses. I skipped church. Was skipping church that day helpful or hurtful? Read on and you decide.
My daughter had come to visit us over the Labor Day weekend and I scheduled one of our other pastors to preach at the weekend services. We took a long weekend at a lake house about 50 miles from our home.
The last time we took a long weekend we all went to church, a very boring one. This time, however, I simply decided I wouldn't go. To be frank, I felt a tinge of guilt because my wife will tell you I'm always the one pushing us to go to church while on vacation.
But for some odd reason, I didn't push us this time.
So what did I do that Sunday morning? I sat in a swing and read my Bible. I cut some dead limbs off a tree. I chatted with a neighbor. I exercised on my treadmill. I practiced the art of 'slowing.' And I really liked it.
Although I'm deeply committed to the local church and won't make skipping a habit, I leaned a few valuable lessons.
Skipping church reminded me that pastors' schedules keep us from normal weekends that most families experience. Sundays (and Saturdays if you hold services) are our biggest work days. But, it's not all about me and I will gladly stay faithful to God's calling.
Those not in pastoral leadership roles will never understand this sacrificial part of our profession because when they want to skip church, they easily do with no repercussions. And when they do, most don't even think twice about skipping.
An occasional 'break from the Sunday routine' can refresh a soul and help avoid pastoral burnout.
I now truly understand how hard it would be for someone who has seldom attended church to give up his or her Sunday mornings and start attending. I really enjoyed having that Sunday free.
Number 4 above reminded me that we pastors must craft compelling, Spirit-led services if we are to entice the unchurched to attend and keep attending. What they experience at church must be worth the price of giving up their relaxing mornings at home, at the lake or at the ballpark. We may only get one shot.
Pastors need  a sabbath too. Since Sundays aren't ours, we must prioritize another day for rest. I now take Saturdays off and I was reminded that I must truly rest on that day.
If you've ever played hookey from church, I'd love to hear what you learned.