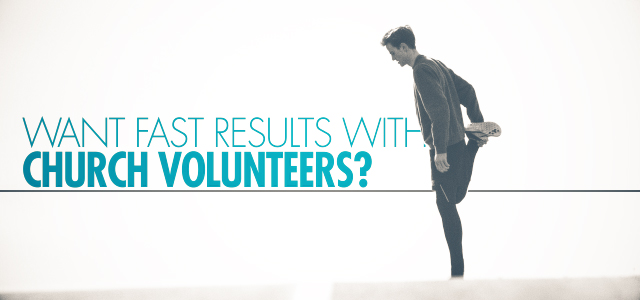 The most effective way to help volunteers get better at the work they do in your church is ridiculously simple.
Just ask two questions.
Last Sunday, the church I help lead finished up a volunteer recruitment cycle. After the slower pace of the summer, we have a lot of work to do as school starts, and we transition into a new building.
If we are going to accomplish our goals and milestones for the fall, volunteers will have to come through for us and do great work. While we do rely heavily on our staff, more than 80 percent of the leaders in our church volunteer a handful of hours a week to get their work done. That doesn't leave a lot of room to create additional training environments—most volunteers do not believe they have more time to give.
Sound familiar?
What are you going to do? How do you help volunteers so they thrive and your church does great work?
Training events sound great, but most volunteers don't have extra time to give. And the truth is that most training events don't lead to tangible results because they're too broad in scope to connect deeply with individual volunteers.
So try this.
This week, ask the volunteers on your team two questions:
How are you? Volunteers are people. Men and women who struggle through life just like you and me. It's easy—embarrassingly easy—to treat volunteers like a number, a widget, a cog in our organizational machine. This simple question is a powerful way to demonstrate that you care more about who a volunteer is than what they do for the church.
How can I help you? Volunteers are leaders. They take the initiative to help the church do the work that God gives us to do. But, like all leaders, volunteers encounter problems that must be solved, opportunities that should be seized and situations where their character and competencies must mature. By asking how you can help, you will often tap into the point of deepest pain for a volunteer. And it's at that point that you can serve them well by coming alongside to solve the problem, capture the opportunity or help them continue to grow as a leader.
If you're tired of guessing at developing volunteers and want a framework that helps you recruit, train and evaluate volunteers, I wrote 'What Is A Leadership Pipeline?' for you. It's short (three pages) and shows you three ways you can start building your leadership pipeline today.
====> Download 'What Is A Leadership Pipeline?' 
Was this helpful? I'd be grateful if you used the menu below and shared it with another pastor or church leader committed to developing leaders.