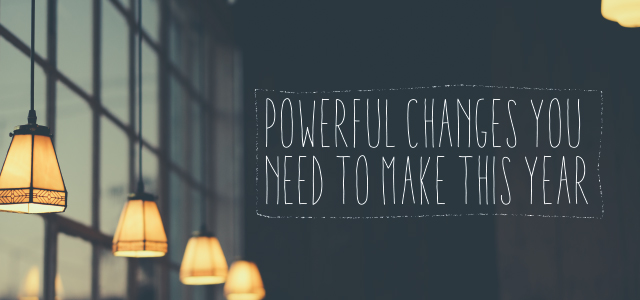 If you're like most pastors, you're already looking ahead to next year and hoping that it's different than this year. You're not a statistic, but most churches didn't grow over the past 12 months, and a lot of pastors are struggling.
Sadly, a lot of pastors I talk with have no real plans to make next year different. Sure, you can set some goals or make resolutions. But didn't you do that last year?
Let's try something different this year.
I've seen four powerful changes take place in dozens of pastors that I've had the privilege to work with this year. This group of leaders ranges from church planter to megachurch pastor, from their late 20s to their early 60s. They come from different parts of the world, their context and the color of their skin aren't the same, and all of them are wired in unique ways.
What connects each of them is that they experienced all of these changes and are different men than they were a year ago. If you're frustrated and tired of the status quo, you can join them.
Oh, the quotes below are from actual clients of mine. I left off their names because I want you to read their story through the lens of your story. Not everything will resonate with you. But if something hits home…
1. From Confusion to Clarity
'I had used all the tools that seminary had given me. I tried hard to listen and apply what I watched other leaders do. But nothing was working. Our church was stuck. And I didn't know what else to do.'
'I got to the point where I couldn't find any place that felt comfortable. I didn't want to be at my office because I was face-to-face with our struggles as a church. I wasn't present at home because my head and heart were still trying to fix the church. My wife wasn't happy. Our team wasn't happy. And I didn't feel like I had anything to offer other than confusion.'
Sound familiar? While no two stories are alike, I have heard those two stories time and time again. When hard work does not produce expected results, leaders become confused. When life gets complicated at home, and you can't fix it, you end up scrambling for a solution.
Thankfully, the two pastors mentioned above did find a solution. More importantly, that solution gave them clarity. Clarity about what was going on in their church and at home. Clarity about what to do next to help their church and family thrive. Clarity that gave them what they need to develop healthy habits—spiritually, emotionally and physically.
2. From Doubt to Confidence
'The hardest thing for me has been coming to grips that I have doubts. I've never struggled with doubt my whole life. But the struggles in my church left me with some serious questions about whether I should even be here anymore.'
'Do I have what it takes to lead? I thought I did when I started the church. But this past year [2015] left a bloody trail of bad decisions. Maybe I'm not cut out to be a pastor.'
I asked both of those pastors how they felt a year later. Listen to the change both of them experienced.
'Maybe the best way to put it is that my wife says I'm back to my old self. I'm happy. I feel confident in the decisions that I'm making. It's not like my life is perfect. But I'm hopeful about the future.'
'Once I figured out how God wired me to lead, everything changed. I still have a long journey ahead of me, but now that I know how I can help our church, I can't wait to see what's ahead.'
3. From Scattered to Focused
'You know the thing about every day being a new day—fresh slate and all that? That used to terrify me. Because it meant all kinds of stuff coming at me. Too much coming at me. I dreaded getting out of bed because an ordinary day for me was pure chaos.'
'As a pastor who wants to love and serve the people God has put in my care, I found myself constantly behind the 8-ball. Because I was quick to respond to the needs of people, I struggled to get ready to preach. It just felt like something was always coming up; someone always needed something from me.'
A scattered calendar isn't a challenge reserved for pastors: Most leaders struggle to break through building their day around the urgent needs that show up on any given day. Here's what both of these pastors (one leads a church of 750, and the other planted a church in 2016) told me after adopting a different approach to their day.
'Look, the dread of a new day shows up. I don't like surprises! What's different about this year and last year is that I know how to focus my time. I can't control what happens around me, but life doesn't feel chaotic anymore.'
'This was not easy, but once I decided to prioritize work that was important but not urgent, I found focus. All of a sudden, I had time for both tasks and people. I can't get everything done, but now that I have a plan, I know I can get the right things done.'
4. From Follower to Leader
'I know that I'm supposed to be a servant, but should I feel like a slave? I want to lead—to set the tone—but I'm always responding to the demands of others. Is that what leadership is supposed to look like?'
'It's weird to go from the guy who walks into the room and leads the way to the guy who can't seem to take the next step until I see that someone else is a leader. Those guys are leaders; I'm just a follower.'
I know some pastors who abuse leadership. More and more, I'm interacting with abused leaders. Just like these two pastors (one who left a corporate management gig to become a pastor; the other who is a former college athlete). Sometimes the abuse comes at the hands of others—hurting people in their church (hurting people hurt people, right?); sometimes the damage is self-inflicted. The result is a positional leader who has lost their mojo.
Here's a Way to Change Your Life and Leadership
The two leaders above—the one who felt like a slave to the people in his church; the other who felt like he had become a follower—and the other leaders I referenced above all have one thing in common.
Their life is different. Their leadership has been transformed.
Why? Well, no one can discount the persistent grace of God towards them. All of them experienced in new ways the reality that they are known and loved by God as their Father.
They also made a choice. A choice to re-imagine how they approach life and work. A choice to walk through life with a plan. A choice to make decisions each day about how to be good stewards of the church, the home, the parts of God's world that he had entrusted to them.
Over the past year, I had the privilege of showing each of these men—and more than a dozen other leaders—the power of a simple system of planning and execution.
That system takes pastors from a world of confusion and doubt to a life of clarity and confidence. Days are no longer scattered; every day has focus and purpose. Pastors recover their desire and ability to lead.
Do You Need to Change Next Year?
I can't answer that question for you. But I can help you find the answers.
For a limited time, I'm scheduling breakthrough calls with pastors and church leaders who want clarity, confidence and focus in their life and leadership.
I walk you through the three steps in what I call the GPS system—a system that will change your life next year.
The call is FREE. If you can't afford for this next year to be just like last year, do the smart thing and schedule a call now.