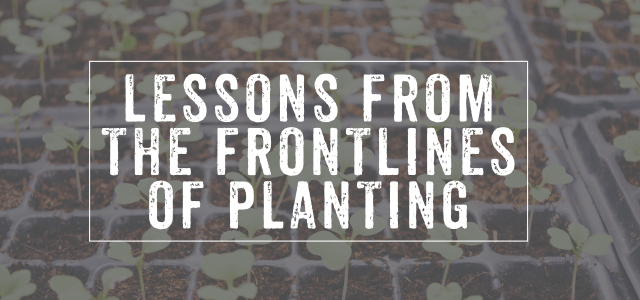 After almost four years spent in a church plant, I learned a few lessons. Some would argue that you need more time invested in a project like a church plant before you can really learn anything, but there are other lessons that become evident very early on. What's fascinating about a list like this is that it's not just for church planters.
Every church, no matter how long it has been around, should think like a church plant. They need to be adaptable: looking for new ways to bring people in, and building up strong teams of committed people.
When was the last time your church surveyed the demographics your community? Church plants are like a church in hyper-drive. They have no congregation to be complacent with, no staff of volunteers to keep things running. So they work with an urgency not typically seen in established churches. But if a church develops a lackadaisical approach to growth, they are destined to decline. This applies both spiritually and in the physical realm.
Here are the lessons:
1. People will leave
Especially in a church plant, people will leave the church. They will lose heart, change their mind or look for something more established. Early on in your plant you won't have much going on. Some people are looking for more activities that they can be a part of. Whatever the reason, you must accept this and move on. Don't let this become a source of bitterness for you.
Instead, see it as an opportunity. Some people leave through life events that take them away. But if a person leaves your church intentionally, reach out to them, and try to glean from them what drove them away. Even Jesus had disciples leave and betray him.
2. You are in the mission field
Whether you are moving to the next town over or across the country, every community is unique. They have their own history, traditions and composition. You need to uncover this valuable information as a missionary. The Gospel is universal, but people experience it through the lens of their culture. How can you tailor your church to best reach the people in your community? The answer to this question will be different for every church. Jesus did this in the way he spoke to different groups of people: to the Jews he referenced their sacred prophecies which he fulfilled.
3. Engaging the community is key
This proceeds from the last point. What you know about your community means nothing if you don't apply it. Engaging your community sets the tone for how people will perceive you.
Your church becomes actively engaged in crafting your own image. One way to do this is to sit down with local officials to see what is most needed in your community. The stories of Jesus take place in the community just as much as in the temple.
4. Know your team
Odds are, you don't have people lining up to volunteer at your church plant. So you need your team—and they need you. When you are first starting out, or entering your fifth decade in ministry, you need to know the people around you. They will be the ones with intimate access to your life. You need to know your team because you need to make sure that those with that access are going to give you what you need to keep you going.
In the early days they can carry you through the difficult times, or they can rip the carpet out from under you. You also need to know your team because you have to be effective with the resources you have, and you can't afford to misplace someone on your team because you don't know what their calling is. Jesus spent time with his team, getting to know them.
5. Pace yourself
What are you trying to accomplish? Hopefully you plan to start a church that will be around for a while. So stop rushing everything! If God called you to this, then He will bring it about in his timing. It does you no good to have three great years then burn out. With setting a pace too aggressive, you can also become consumed with meeting the deadlines you set. Don't do this. Jesus waited 30 years before beginning his ministry.
6. Be OK with small
Again, this flows from the previous point. When you set a pace, it may mean that you will be a small church for a while. Relax. This does not mean that you failed. You can't determine the number of people in your church, but you can determine what the ethos is for those who are in your church. People will catch on if you treat them with resentment because they are one of 20, not 200. Capitalize on this opportunity to invest in your team while you have little else going on. Jesus worked with 12 disciples and prepared them for the larger church to come.
7. You will get tired
Unless you are blessed enough to have financial backing, you will be working, maybe even a full-time job. That's a good thing, though, because ministry happens mostly in the evening and on weekends, so you're available. The life of the minister is always flexible, and if you are doing it right, always busy. So plan to be tired in the beginning.
In light of this, be very intentional about working rest into your schedule. There is a difference between tired and exhausted, and you want the former. Jesus knew when he got tired to go get rest.
8. Find friends
Whether or not you believe the dire statistics on pastors, the calling takes its toll. So when you are in a new environment, that support system becomes even more crucial. These friends can also be in another location and still provide some of the same resources (prayer support, advice, someone to listen to, etc.).
9. You will get frustrated
You can look at any of these earlier points and see the potential for frustration. How you respond to those surprises will affect you and those around you. The key is to evaluate that frustration to find a way to utilize it. What is the underlying issue? What can you do in the future to prevent the issue? Most importantly, what is God doing in this issue? Even Jesus got angry sometimes.
10. Keep God close
You cannot do this without God. When all else seems lost, he will be there to comfort you, and push you forward. It's also important to keep God close because this is about him after all. We might get tempted to treat our church like the latest tech startup and see ourselves as entrepreneurs. At the end of the day though, if God isn't first, second, third and all the way down the line your focus, you will lose yourself.