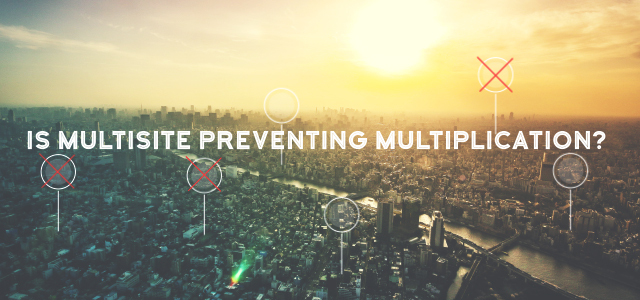 The multisite movement has progressed through some very identifiable seasons. When I started down the multisite path as a senior pastor in Colorado in the 1990s, multisite was a radical idea. In the first decade of the 21st century, multisite then became a cool idea among large, cutting-edge churches. Now, in the second decade of this century, multisite has become the mainstream idea among healthy, growing churches of all sizes.
What began as a radical idea has spawned a movement of more than five million people attending one of the 5,000-plus multisite churches across North America. More importantly, the multisite movement is not slowing down. This movement is comprised of non-denominational and denominational churches that gather in urban, suburban and rural communities.
Along the way, the multisite movement has changed church for good across America by:
Stimulating a new energy for local church ministry
Refocusing the "local" in local church
Accommodating & accelerating growing churches
Reinvigorating stable but stuck churches with a fresh vision & strategy
Offering an alternative to abandoning or relocating church facilities
Allowing churches to change without blowing up the church
Stimulating innovation and outside the box thinking
Saving a lot of churches from extinction through mergers
Repurposing many antiquated church facilities
Creating a new staff role of campus pastor
Diminishing the need for mega-campuses & mega-dollar campaigns
Bringing church back to rural and urban communities
Stimulating more community awareness and collaboration between churches
Igniting a new energy for church planting among local church leaders
Very few multisite churches have maximized the multiplication potential inherent in the model.
Though the multisite movement has been a game-changer for the church in America, we are again standing at an important crossroads. Multisite churches have been effective in adding converts, worship services, worship venues, programs, and reproducing campuses. What multisite churches have largely struggled to do, however, is move beyond adding and reproducing to multiplying. Very few multisite churches are maximizing the multiplication potential inherent in the model. Very few have reproduced congregations to the third generation. Very few have birthed congregations that birth congregations. That's genuine multiplication.
Local churches grow by addition and reproduction, but movement-making churches grow by multiplication.
In the multisite movement, we have unfortunately used the words adding, reproducing and multiplying interchangeably to describe multisiting. These words are related, but they don't have the same meaning.
Let me try to explain the difference this way. When a person gets married, they grow by adding a spouse to their life. When that couple has a child, they grow by reproduction. When that child matures and gives birth to a child, that's multiplication. Addition is not reproduction, and reproduction is not multiplication, but reproduction doesn't happen without addition, and multiplication doesn't happen without reproduction.
Local churches grow by addition, multisite by reproduction, but they become movement-making churches through multiplication. Multisite churches have the potential of becoming movement-making churches, but they have to reproduce congregations that reproduce congregations. That's real multiplication!
So how does a church become a movement-making church? My partner, Wade Burnett, and I facilitated a learning community this past year of 18 leading multisite churches to ask that very question.
These movement-making church leaders don't primarily see themselves as being in church-work, they see themselves as being in disciple-making work through the local church. As a result, they see every disciple of Jesus as the seed of a new congregation because wherever disciples of Jesus go, local churches emerge. It's in the DNA of a fully-devoted Christ-follower.
Movement-making churches embed multiplication into everything they do and measure success not just by adding disciples, campuses or church plants, but by reproducing and multiplying them. They make disciples that make disciples that generate congregations. They empower disciples with a "you can do it; we can help" mindset. They don't waste time and energy debating multisite vs church planting. They birth campuses that birth campuses. They plant churches that plant churches. They create networks and coalitions to birth more and better disciples that multiply more and better congregations. Though all resisted the label of being called a movement-making church, we saw encouraging signs of movement in many of them. May their tribe increase!
Multisite churches have the potential to lead the way in multiplying congregations if they can shift from just adding and reproducing thinking to a multiplication mindset. They will birth congregations that birth congregations that birth congregations. That's movement!
The multisite movement is now at another crossroads. The multisite movement changed how we think and do church. Now it's time to change how we think and do multisite. Now it's time to move beyond just adding and reproducing to multiplying.
Go forth and multiply!