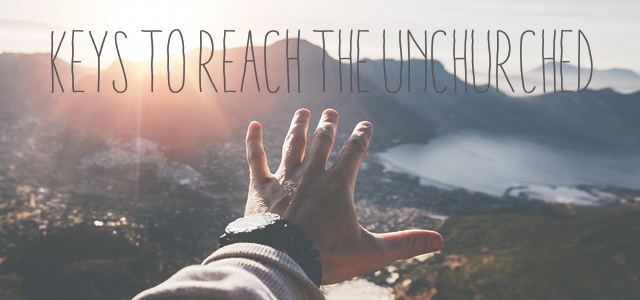 When I first became a believer, evangelism meant "cold call," door-to-door telling people about Jesus. That approach actually still works in some contexts, but it's not the norm. Here are some steps to reaching the unchurched today.
Secure prayer support. Get some prayer warriors to pray for you what the Apostle Paul wanted others to pray for him: that he would have opportunity to evangelize and that he would speak the gospel clearly and boldly (Col. 4:2-4, Eph. 6:18-20).
Get to know the culture. We're "aliens and strangers" in this world (1 Pet. 2:11), but we also must think as missionaries wherever we live; that is, we must be willing to understand and cross cultures to reach people. Know the news. Be aware of movies and music. Listen to vocabularies. Talk to young people. Under the protection of the Holy Spirit, you can be in the world without conforming to it.
Choose to live among the unchurched. You can't reach people you don't know. So, participate in the community, join civic organizations, invite unchurched people into your life and hang out with people who don't know Jesus. This step might even mean strategically doing less in your church to have time to develop these relationships.
Ask questions. Be interested in people, especially people who live and think differently than you do. Ask about their family, their work, their religious background, their thoughts about Jesus. Listen closely. Respond respectfully. Genuinely and deeply desire to get to know them, not as evangelistic projects but as people created in the image of God.
Watch for trials or transitions. People are often more open to the gospel when their lives face change or difficulty. Offer a prayer in those times. Talk about how God has helped you through struggles. Without being a "buzzard circling for the kill," lovingly serve others who need a helping hand.
Watch for open doors to speak about God's goodness and grace. Tell others about how God has answered your prayer, given you peace during a troubled time, granted you joy that even you don't understand, or freed you from some bondage. Show people how the gospel has transformed you.
Get to Jesus. Eventually you must get to Jesus' death, burial and resurrection if you're doing evangelism. Don't be afraid to ask, "You know, my relationship with Jesus has changed my life. May I take a few minutes to tell you about that?" If you've gained credibility and relationship with a person, you might find somebody ready to listen.
Invite them to church, and be there with them if possible. Don't leave them alone to navigate a world they don't know. Walk with them. Explain what's happening. Help remove obstacles other than the gospel.
Do something. We know that doing nothing won't reach anybody. Take at least one step toward the lost world.
What would you add to this list?