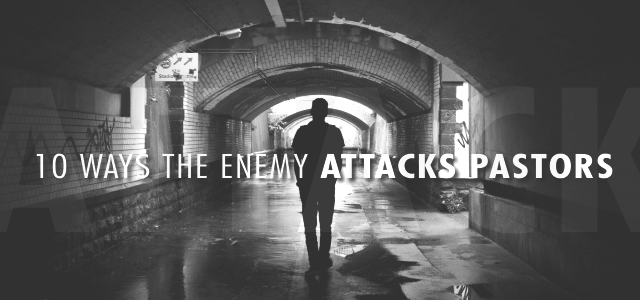 If you read this blog regularly, you know that I've studied spiritual warfare and churches for more than two decades. The enemy we face is a schemer, a strategist who subtly attacks and deceive us. In fact, I've previously written about "Ten Enemy Attacks on Leaders."
We're always ultimately responsible for our sin, but here are some other subtle (and perhaps not so subtle) ways the enemy attacks church leaders:
Promoting preaching and teaching without the Bible. It isn't the talent or giftedness of preachers that threatens the devil; it's the Word of God expounded and applied. A great communicator in the pulpit does not automatically alarm Satan.
Welcoming church growth with no conversions. Transfer growth ("swapping sheep") is sometimes necessary, but I suspect the enemy delights when transfer growth lulls to sleep churches that used to be evangelistic.
Encouraging leadership from strength, not from weakness. God most often uses the weak and the humble, not the strong and the proud. He reduces us like Gideon's army to make us usable; it's the enemy who challenges us to be so strong we don't need God's help.
Filling leaders with bitterness and unforgiveness. Even when we think we're justified in our anger at churches that wound us, holding on to those wounds only hinders our leadership. In fact, it blocks our prayers and robs us of God's blessings.
Diverting attention from Jesus and the gospel. We face cultural and political issues we cannot ignore, but we must not neglect getting to the Good News of Jesus as the answer for all that we face.
Infiltrating the church with false teaching. He's sly enough that he doesn't always start with the pulpit. Sometimes, he digs in at the small group level, spreading his influence before leaders even know what's happening.
Inviting satisfaction with church decline. I don't know any church leader who set out to lead a church into decline. I know some, though, who've found debatable reasons to affirm the decline once it's happened.
Enticing "behind the scenes" ungodly speech. Satan knows that our filthy talk behind closed doors ultimately robs us of the power of God when we stand to speak His Word publicly.
Promoting the greener church grass elsewhere. Some church leaders so live in the "possibilities of the next church" that they never fully make themselves available to God where they currently are.
Encouraging false fellowship among leaders. Satan is not disappointed when we teach about fellowship even while we aren't getting along with people who serve beside us.
What other strategies would you add to the lists from this post and the previous one?
This article originally appeared here.