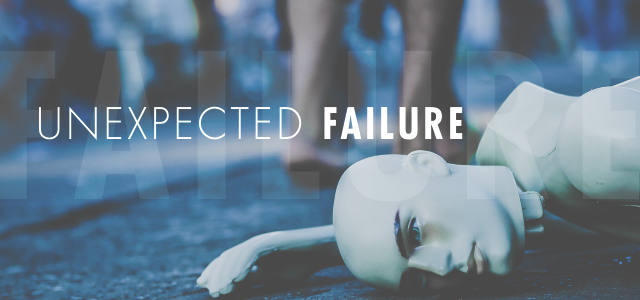 In Joshua chapter 6, Joshua leads the people of Israel to an improbable victory over the mighty city of Jericho. But conversely in chapter 7, they were shockingly defeated by the small army of Ai. Today at Piedmont Church, senior pastor and leadership expert Ike Reighard discussed why.
One thing all smart leaders must understand is the greatest enemy to future success is past success. Israel was defeated because a single man: Achan ignored God's commands and stole gold, silver and clothing from the victory at Jericho. Ai should have been an easy target, but one man's sin (what he did in the privacy of his own house) resulted in a nation's defeat and the unnecessary death of 36 individuals.
The following are 14 Things Pastors and Christian Leaders Should Learn From Unexpected Failure from his wonderful message today:
A Discipline Every Leader Needs to Develop Is the Ability to Confront Things. The challenge in this area is Doing What's Right (Godly) vs. Doing What's Easy (Ungodly).
There Is a Sin of Presumption. The devil wants to build a stronghold in our choices. When you form a relationship with God, it is established. Fellowship with God is a daily choice. The devil wants to pollute and sabotage a leader's decision-making with faulty thinking.
A Confrontation Requires Immediate Action. Joshua 7:10 – "So, the Lord said to Joshua: 'Get up!  Why do you lie thus on your face?"
A Confrontation Needs an Immediate Diagnosis. v. 10 – "Israel has sinned, and they have transgressed My covenant which I commended them."
Even Small Battles Are Lost When Fellowship With God Is Blocked. We are often soon defeated after a significant victory because we become strong. v. 6:27 & 7:1 – "So The Lord was with Joshua, and his fame spread throughout the land. But the children of Israel committed a trespass regarding the accursed things."
It Is Frightening When You Feel God's Hand Is Off of You. v. 12 – ""Therefore the children of Israel could not stand before their enemies, because they have become doomed to destruction."
A Confrontation Requires Changes to Be Made. v. 12 – "Neither will I be with you anymore, unless you destroy the accursed from you."
We Are to Be Obedient to His Word Even if We Do Not Understand It. v. 15 – "Then it shall be that he who is taken with the accursed thing shall be burned with fire, he and all that he has, because he has transgressed the covenant of the Lord, and because he has done a disgraceful thing."
When You Take the Spoils (Credit), You Take the Glory Which Is God's Alone. v. 19 – "My son (Achan), I (Joshua) beg you, give glory to the Lord God of Israel, and make confession to Him, and tell me now what you have done; do not hide it from me."
We Go Through Many Problems Because We Become Accursed. We have let things into our life and do not trust God. Aiken trusted "the thing" (spoils from victory) and not the King.
A Confrontation Requires Judgement to Be Swift and Punishment to Be Quick. v. 22 – "Joshua sent messengers; and they ran to the tent."
I've Seen People Sell Their Reputation for $3,000 or $4,000. v. 21 – "When I saw among the spoils a beautiful Babylonian garment, two hundred shekels of silver, and a wedge of gold weighing fifty shekels, I coveted them and took them."
You Must Confront Self-Confidence, Self-Sufficiency and Self-Enlightenment. You can become so confident because of previous victories, so self-reliant, and so smart you think you do not need God. You must confront this immediately.
There Are 5 Sources of Confusion (Lies People Believe)
"Forbidden fruit is always sweeter." The truth is it will make you sick for a long time.
"What you do is your own business." It will actually affect everyone around you.
"No one will ever know." Numbers 32:23 – "But if ye will not do so, behold, ye have sinned against the 

Lord

: and be sure your sin will find you out."
"You did it and now you are finished." But God is a God of second chances.
"Being in God's will is not worth it. It is better in the wilderness." But God's will, no matter how seemingly difficult it may appear to be, is for our good and His glory.
You can see Ike's full message by clicking HERE.
This article originally appeared here.