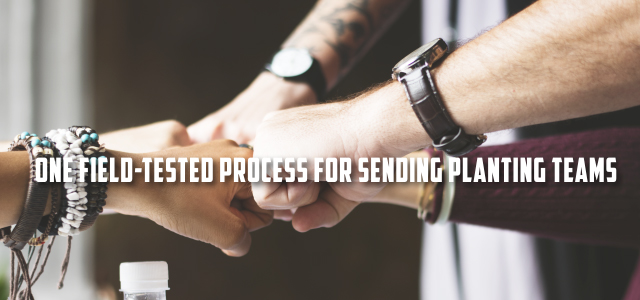 I recently posted a photo on my Instagram account noting I was in the process of revising our church's approach to assessing and equipping U.S. church planting teams. Several of you wrote and asked for a copy of what The Church at Brook Hills has been doing over the past few years. I then promised to share this information through a series of posts.
Since you asked nicely, here is the first in a series of several posts on this topic.
There is no way I can cover everything in this series. I have written several books (and previous posts) outlining my biblical, missiological, pastoral and practical convictions regarding the multiplication of disciples, leaders and churches. If you are interested in understanding the details beyond this series, please check out the books on my author's page at Amazon. However, some background is necessary to set the foundation for why we do what we do.
Biblical Background
The Bible never tells us to plant churches. We are told to make disciples. What we read about is disciple making that results in new churches. As disciples are made from the harvest, local expressions of the universal Body of Christ come into existence by the Spirit. Our expected definition of biblical church planting is evangelism that results in new churches. Passages such as Act 13-14 and 1 Thessalonians 1 reveal churches birthed from lostness—not transfer growth. Biblical church planting is not about the shuffling of the sheep around in the Kingdom to form another local church. We are hard pressed to find strong biblical support for church planting via transfer growth (i.e.,, the primary contemporary model).
Also, not only were churches birthed from conversion growth, but the elders overseeing those churches were men from those newly planted churches. A examination of the latter part of Acts 14 reveals the appointing of elders in the newly planted churches. Titus 1:5 also notes that Titus was left on Crete to be involved in the appointing of elders in every town.
The pathway of planting in the Bible is:
Gospel Shared -> Disciples Made -> Churches Identified -> Elders Appointed
It should be noted that this pathway stands in distinction to the ubiquitous contemporary approach that generally plays out as follows among reached people groups:
Pastor Identified -> Long-Term, Kingdom Citizens Gathered -> Church Identified -> Disciples Made
Following a Romans 15:20 approach, we desire to see church planting teams sent to serve the unreached (and unengaged) peoples.
Simple Missiology

Much could be written regarding our missiology, but I also have to limit this topic to a few statements. Complexity often hinders movement. In the first century, there was a gospel simplicity that defined the churches in Jerusalem, Achaia, Galatia, Macedonia and Asia Minor. Ordinary, uneducated disciples (Acts 4:13) turned the world upside down (Acts 17:6). The Word spread rapidly and with honor (2 Thes 3:2). Paul remained in one place and all of Asia Minor heard the gospel (Acts 19:10). The gospel sounded forth from the young church of the Thessalonians in a powerful way, demanding Paul's commentary (1 Thes 1:8-10).
The question for us is how do we keep things biblically simple, knowing that churches become more complex in structure and organization as time passes. We pray to see Spirit-filled men and women (in teams)—using their marketable skills and degrees in the workplace—commissioned from The Church at Brook Hills to take the simple disciple making, church planting, elder training process to the field.
Expectations vs. Exceptions
While we do not rule out the Spirit's work through the contemporary approach to church planting (we have used that model before), we do consider it an exception to what should be expected. For us, the expectations of those sent from our faith family are:
Teams working in the marketplace…
Following an apostolic approach (evangelism->disciples->church->elders)…
Serving among unreached (and unengaged) people groups.
In several of the posts to follow (Lord willing), I will share both content and provide some of our church's documents for your consideration and use.
Please note, we do not claim to have all of the answers about apostolic church planting among unreached people groups. We are learning much as we go. However, as you have read from me before, wise stewards do not wait to work through all of the limitations before sharing with others. Time is short! Brothers and sisters, we are not in competition with one another!
It is my hope and prayer that our rough approach, that we are still working out by God's grace, will be used to assist your church in her Great Commission labors. And, that your feedback will assist us in our calling as well!
Stay tuned…
This article originally appeared here.