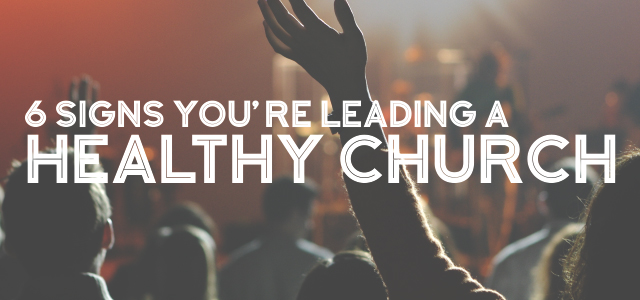 Jesus is into results. I know I'm going to lose a lot of readers at those four little words. But I really believe it's true. Read the scriptures and Jesus actually has a plan that He's working to make everything new and fix what we broke. Both Jesus and the Apostle Paul talk about it in terms of producing "fruit." That's the biblical language ascribed to producing results.
Healthy churches produce results, and you can know if your church is healthy by the results it's producing. And while I'd quickly admit that none of the items on this list guarantee a healthy church, you probably can't lead a healthy church without these things.
1. Baptisms
The church isn't a building that you come to, it's a movement you choose to be a part of. The whole point of this thing called the church is to join God in His mission to reach everyone on the planet with the Good News of Jesus. Healthy churches aren't simply growing churches, they help new people meet Jesus and follow Him. The lead indicator of that is post-conversion baptism.
2. Divorce Rate
Is the divorce rate of the people in your church lower than that of the community your church is located in? Jesus said His people would be known by the quality of their relationships (love for one another). This is a simple and tangible way to get to the everyday effectiveness of your church.
3. Financial Strength
This is not just a question about the amount of money you have in savings, although I'm a big fan of churches having reserves and margin (I think the book of Proverbs is a big fan of that too). An often-overlooked indicator of financial strength in a church is its capacity to respond to opportunities that Jesus provides. Essentially, healthy churches put themselves in a financial position to say yes to Jesus when He asks them to do something. The Scriptures clearly connect financial generosity to spiritual maturity.
4. Span of Care
It's well documented that the best C-suite Executives of Fortune 500 Companies (i.e., some of the best leaders on the planet) manage around seven direct reports. What's the span of care at your church? If your staff team is directly managing more volunteers than that, you're probably just filling volunteer spots, not developing people. Your span of care is a lead indicator of how well you're doing as a church at developing people, not just using people.
5. Staff Restructures
You may have never thought of this before, but staff promotions and restructures can be an indicator of a healthy church. Are the staff at your church growing in their roles and responsibility? Growing churches have to restructure their staff team to both respond to and catalyze healthy growth. Staff promotions are an indication of churches investing in, developing and recognizing the growth of their staff team members. Churches that are plateaued or dying restructure to accommodate layoffs and decline.
6. Numerical Growth
So, I saved this one for last. But I couldn't leave it off the list. Healthy things grow. But so does cancer, and nobody wants that. Just because it's growing doesn't mean it's healthy, but…if it's healthy it will grow.
Interested in discovering how healthy your church is? Take the step and engage the Unstuck Group in a comprehensive Ministry Health Assessment of your church!
This article originally appeared here.