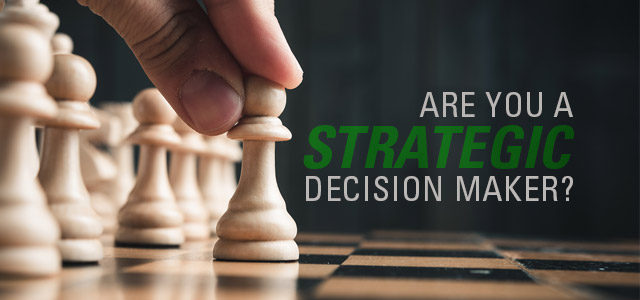 There are times the "gut call" comes in handy for a leader. Leaders often must make quick and decisive decisions. Past experience and instinct can help a leader make the call when an immediate decision is needed.
There are times, however, if a leader wants to be successful, when they must use strategy to make decisions. A strategic decision doesn't simply react based on how the leader feels—it brings other people into the decision and asks bigger questions, such as why, how, when, where, who and what. The consequences and ramifications of the decision are highly weighed before a leader makes the call.
Protecting the organization's future and keeping the trust of people often demands strategic thinking, so all leaders must learn how to think strategically.
Strategic thinking comes naturally for me. I have tons of weaknesses, but thinking in a strategic sense is not one of them. If anything, I'm so strategic that it becomes a weakness.
When a leader isn't necessarily wired to think strategically, it will need to come through discipline—simply learning how and practicing doing so. Thankfully, not all decisions a leader makes require using strategy, but when it does the leader needs to practice stopping to ask bigger questions about how this decision will impact the future—again, using questions such as why, how, when, where, who and what.
To help you get started, let me share a few examples of times a leader needs to be strategic with their decision.
Here are four times the leader must think strategically:
The outcome is uncertain
I love risk, but the leader must weigh the risk with the future of the organization in mind. Ultimately the leader has responsibility for the overall success of the organization, so a leader has to make final calls as to whether or not a risk is worth the time, energy and resources, which will be invested in it. This requires strategic thinking. Absent of a direct "word from God" the leader needs to be strategic enough to thoroughly vet the decision and its potential future implications. It doesn't mean you don't take the risk or that you won't lead into an unknown—that's what leaders do—but taking time to think strategically can often help eliminate possible disasters.
The outcome impacts others
One flaw in leadership is when the leader thinks only about how he or she views the decision and not how the decision affects other people. The wise leader thinks strategically to determine the people aspect of a decision. This is especially where other people are brought into the strategy part of making the decision. If the outcome has an impact on other people, then other people need to be considered before the decision is made.
The issue is subject to resistance
Most change is subject to resistance, but if a decision is automatically going to involve a battle for acceptance, then a leader must strategically plan the way the decision is introduced and implemented. The more potential outcomes and reactions considered, the greater chance of success the change can have.
The issue changes an agreed upon direction
When people get excited about a direction the organization is going and they invest their heart and energy into heading in that direction, they are naturally more resistant to a change in the direction. Good leaders think strategically about how this change will be received and how it should be communicated so people transfer enthusiasm for the new direction.
Those are just a few examples. There are certainly many others. I can't tell you how many times I have seen a decision backfire against a leader who failed to think strategically. They did what they thought was best—they used their gut—but, there were too many variables at play and the decision came back to bite them—metaphorically speaking.
A good rule of thumb for leaders might be to simply discipline themselves to ask a simple question: Do I need to think more strategically before I make this decision? And, if the answer is yes, start asking more questions and involving more people. It will make you a better leader.
This article originally appeared here.