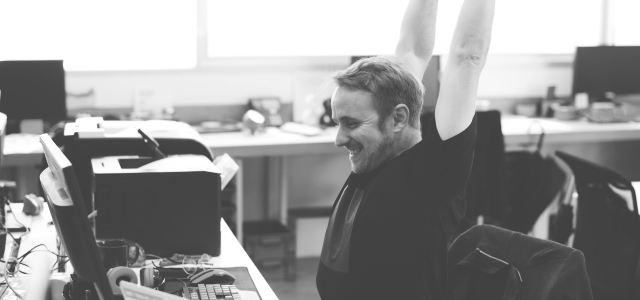 Sermon prep and sermon writing can be hard. Often times, it can even be painful. Anything seems better to be doing when we get stuck in a sermon prep and writing rut. But we all know that the work is worth it. The pain is worth it. The plodding is worth it.
We've all been there, right? We know what passage we're preaching on and we've worked through what it meant then and how it can apply (broadly) today. But the blank screen or page stares at us—taunting us. We find ourselves at a loss for good illustrations or a personal story to engage the congregation in the beginning. By all accounts, we're stuck in a sermon prep and writing rut. So what should we do?
3 Things to Do When You're Stuck in a Sermon Prep and Writing Rut
1. Take a Step Down – Prayer
Prayer is a constant conversation through sermon prep and writing, but when we're in a rut, we just need to take a step down and get out of the way.
Admit your frustration.
Ask God what His heart is in this passage.
Ask Him to show you how to communicate His grace and truth in this time where you are.
Ask Him to take over in the process and humble you enough so you're willing to follow.
Thank God for the gospel.
Then spend some time in silence. Take some deep breaths and just be with Him and listen.
2. Take a Step Out – Change Your Environment
In some seasons, you'll find that your office is the best place to prepare and write sermons. But when you are neck-deep inside a sermon prep and writing rut, a great way to catapult out of it is to change your environment.
Instead of staying stuck in your present environment, take a step out and find a different location to prep and write. Ask any creative you know and you'll probably hear the same thing—changing your environment can make a difference when you're in a rut.
Here are some ideas for where you could go to get that needed environmental change.
Go for a walk and talk through the text with yourself and God.
Go to a local coffee shop. I've been doing this more and more.
Go to your local library.
Go to a local park. Many covered pavilions have electric access if you need to bring your computer.
3. Take a Step Back – Get Out of Your Thinking Box
There are a number of ways you can do this, but one I find most helpful is to pull out a blank piece of paper or use a whiteboard and write out the big idea of the text. This could be a single word or a short phrase.
Write that word or that phrase in the middle of your writing canvas.
Circle it.
Now, we're going to do the fun work of looking for all the connections we can find to that word or phrase.
I'll attempt to show you how this works through bullet points, but keep in mind that we're doing this visually.
To be clear, you'll have the word or phrase circled in the middle with lines going from it to broad ideas and then lines going from those broad ideas to more specific ideas.
Here we go:
Big Idea
Environments

Home
Work
Vacation
School
Hobbies
Online

Follow Big Idea
Don't Follow Big Idea
Relationships

Spouse
Kids
Parents
Friends
Church
Community
Depending on the big idea, this will look vastly different. The goal, though, is to look for all the ways the big idea can/will/does impact every crevice of our lives.
Once you've done this, you'll likely have some ideas for personal stories, other illustrations, potential action steps and other application points.
For some more ideas to get out of the box and be more creative, check out this article where I share three ways we can boost our preaching creativity.
What Has Helped You Get Out of a Sermon Prep and Writing Rut?
This article originally appeared here.