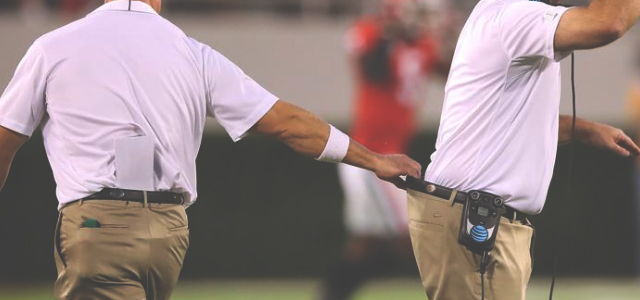 Who's telling you to "get back!"? Who has the authority to step in and tell you to "step back" from something you're doing?
You've likely seen it, but you may not know what it's called. Or actually, what the person is called. Most college and professional football teams have a "get back coach." During the week they have another role with the team (strength and conditioning coach or maybe a linebackers' coach). But on game day, they have the charge to keep over-zealous players and coaches off the playing field (who aren't supposed to be on field).
Why? Well people get hurt on football sidelines when they venture too far out. Also, their team can get penalized for crossing into the marked box where referees and players are roaming.
In a very odd scene, you have a head football coach who's flailing and yelling on the sideline, and at the same time, inching closer and closer to the game action. And then behind him, you have the "get back coach." And for some coaches prone to wander, the "get back coach" is literally touching him at all times or within grabbing distance at all times. He's ready to grab the coach's waistband and pull him back.
All this to help the wandering coach avoid injury for himself or a penalty for the team.
Who in your life has the authority to metaphorically grab your waistband and put you back into place? Who's keeping you from harming yourself or the "team" (church) you lead?
"Get Back" Situations
If you were to make a distasteful comment in a meeting that most people would choose to ignore because you're the boss, who's going to come to you directly and let you know you crossed a line? What if you lingered too long after church talking to a member of the opposite sex who's not your spouse? Who can pull you aside and let you know you ventured out too far? If in an email you wrote a sentence that caused harm to others or was mean-spirited, who's going to tell you it was too much?
Who can tell you the last 2 percent and not fear retribution? Who loves you enough to be a truth-teller?
Expressed Permission
We may think we already have "get back" people in our life. But they're not official or effective until you've given them expressed permission to speak bluntly to you. They've got to have permission to figuratively, or literally, pull you back by your waistband to avoid harm to yourself or the areas and people you lead.
When's the last time someone you trust confronted you and told you to "get back"? If it's been awhile, you've either not arranged for this coaching in your life or you're not prone to wander. My guess, you've not yet given someone permission to help you when you can't see you need "get back" help.
If you don't give this permission, most people won't do it. And this is especially true for those of us who are clergy and/or have tenure or positional authority. There's a natural tendency toward being perceived as untouchable or "unchallengeable." You've got to ask for it, and then when one of your "get back coaches" grabs you by the waistband, well, heed their warning.
If head football coaches making millions of dollars a year put a "get back coach" in place just to help avoid 15 yard penalties, than maybe as church and family leaders we should realize our stakes are much higher and we should put them in place too.
This article originally appeared here.