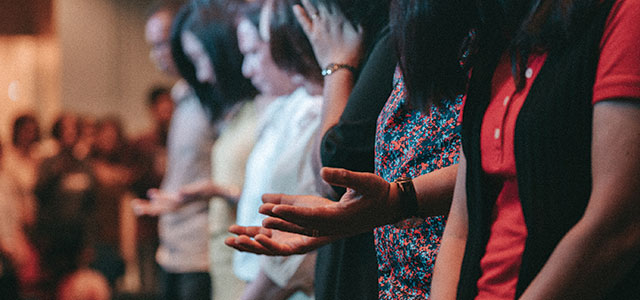 Can this blunt instrument of condemnation be redeemed? Is there more to this passage than a club for the small-minded to thump the rest of us? I believe so, because verse 25 does not stand alone, it lives among  a string of "Let Us" statements reaching back to Hebrews 10: 22:
Let us draw near to God with a sincere heart in full assurance of faith, having our hearts sprinkled to cleanse us from a guilty conscience and having our bodies washed with pure water. Let us hold unswervingly to the hope we profess, for he who promised is faithful. And let us consider how we may spur one another on toward love and good deeds. Let us not give up meeting together, as some are in the habit of doing, but let us encourage one another—and all the more as you see the Day approaching. (Hebrews 10: 22-25, there: that's better!)
I invite you to consider the larger message of Hebrews 10 with these five observations:
Let us draw near to God (v 22): Jesus has done his part. Now it's up to us to respond. "Draw near" is the first of the "let us" statements, and "meeting together" comes second to last. Do we see the connection? One sure way to draw near to God is to come together with his family. But a word of caution: we should draw near with with a clean heart and a free conscience. We are commanded to draw near; we are not commanded to give in to guilt, manipulation or hype of the those who would use church life for their own purposes.
Let us hold unswervingly to hope (23): Students of Jesus carry hope. We are called to speak words of hope. Imagine coming together with others filled with hope, each one eager to "profess" their hopes out loud. The world knows the difference between hope and hype: one attracts, the other repels.
Let us consider how we may spur one another on towards love and good deeds (v24): What a crazy image comes with the word "spur." Imagine a horseback rider giving her heels to the horse. Another translation suggests "provoke one another." Here's a crazy-evil Christian meditation: Before I head for church I should ask, "Have I plotted some way to provoke others to love and good deeds?" Conversely, who will be there to spur me on toward my calling to represent the grace of God? Remember, though—I've got a clean conscience and I'm not buying guilt, so the only way to provoke me is to demonstrate the real thing.
Let us not give up meeting together (v25): Apparently there were reasons back then to give up on the church, which means in our day we haven't stumbled into some new revelation about jumping off the train. The additional challenge is the word "meeting." Church meetings back then may not resemble the form we have, but whatever it looked like it was regular and organized. When people say, "I don't like organized religion," what's the alternative, disorganized religion? Do we think the Holy Spirit is incapable of organizing more than two or three people?
Let us encourage one another (25): This final suggestion cuts to the heart of the matter—is your church a place of encouragement, or guilt? Does your church move in the vision of God's awesome future or do they trade in hype that can't last until Thursday? And of course, there's the little matter of the word "us." Who carries the encouragement? Who has the vision? Do we go to church like we go to Walmart—to pick up inexpensive cheer—or do we go to church as the very vessels of hope and encouragement, ready to spill ourselves all over the place?
ALSO: CHECK OUT "CHURCH MEMBERSHIP FOR DUMMIES"
I'd like to suggest that these five points are a call for us move beyond obedience to vision, to move beyond following the rules of the Bible to capturing the heart of Jesus. He sees something in the church we do not. Which one of us needs the eye exam?
This article on the ministry of "let us" originally appeared here, and is used by permission.