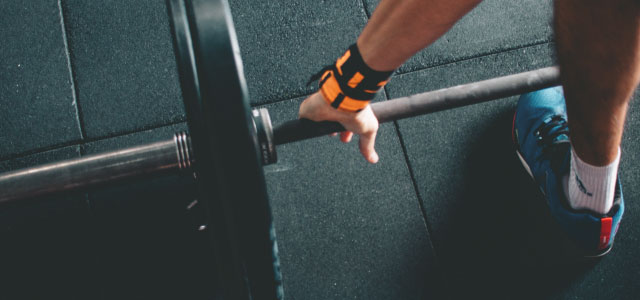 Let me share this parable about spiritual transformation: I ran into this guy at the grocery. He was ripped. I could tell by his gym shorts and spandex shirt. I couldn't help but stare: He had (maybe) 5 percent body fat, uber-cool tattoos up one arm, and salt'n'pepper brown hair. This guy was an absolute Adonis, and he caught me staring.
"Hey, man. What's up?"
"Um, yeah. I won't lie: You're really fit, and that makes me feel a bit self-conscious." A bit? I'm a puffy, pear-shaped suburbanite on the north side of 50—way to the north.
"Well, thanks. You know, I own a gym: You could shape up in no time."
Call it the ultimate impulse-buy, but right there in the baked goods aisle the guy sold me a six-month membership (owner's discount, he said). He pulled out his phone, swiped my debit card, and charged me his fee before either of us got to the checkout lane.
It took a day or two, but since I'd already spent the money (and before my wife saw the charge) I found my best cut-off sweat pants, my favorite XL T-shirt, and drove to the gym. I took a deep breath and pulled the door open. I should have turned around right there. The mural on the lobby wall shouted in four-foot letters, "NO PAIN, NO GAIN." Then I heard someone scream. The guy at the grocery store didn't say anything about pain.
Forget spoilers, let's just fast-forward to the climax: I'm still a puffy, pear-shaped guy. He sold me the membership without a word about the work, because the product looked good. I had no idea about the paining and the gaining.
Right: So maybe I made this up (or did I?).
Certainly there are segments of the church that want to make following Jesus sound like boot camp. The tougher the better. "None of this greasy-grace," says the Drill Sargent. "God wants everything you have, and if you're not willing to pay the price, don't waste your time." Call it Xtreme Faith. Sweat equals holiness.
Just as surely there are other segments of the church focusing on the promise of Heaven. "There's nothing you can do to earn God's love and forgiveness," says the Cruise Director. "God loves you just the way you are." Call it Win-the-Lottery Faith, holiness optional. (In this second case, I suspect that one reason this part of the church sticks with heaven-preaching is because we can find ourselves changed in an instant—an instant that comes after we breathe our last.)
Of course, both presentations are overstatements; the call to follow Jesus is completely different. We can't get mixed up with a self-sacrificing God without embracing death to ourselves. And this is displeasing to both camps: We don't become Xtremely Faith-Fit by feeling the burn of our own efforts, and neither do we experience deep change by remaining in the baked goods aisle. The radical truth of the gospel reveals a people hooked up with a dangerously-loving God who is not impressed by our own righteousness, nor is he willing to let us remain comfortably self-serving. God doesn't have a gym, but neither does he have a spa.
Here's how Paul and Barnabas wrapped up their first missionary expedition:
But Jews came from Antioch and Iconium, and having persuaded the crowds, they stoned Paul and dragged him out of the city, supposing that he was dead. But when the disciples gathered about him, he rose up and entered the city, and on the next day he went on with Barnabas to Derbe. When they had preached the gospel to that city and had made many disciples, they returned to Lystra and to Iconium and to Antioch, strengthening the souls of the disciples, encouraging them to continue in the faith, and saying that through many tribulations we must enter the kingdom of God. And when they had appointed elders for them in every church, with prayer and fasting they committed them to the Lord in whom they had believed. (Acts 14:19-23, ESV)
Did you catch the content of Paul's "encouraging" message? Through many tribulations we must enter the kingdom of God. This incident must have been formative in Paul's life of faith. Years later he encourages his protégé, Timothy:
You, however, have followed my teaching, my conduct, my aim in life, my faith, my patience, my love, my steadfastness, my persecutions and sufferings that happened to me at Antioch, at Iconium, and at Lystra—which persecutions I endured; yet from them all the Lord rescued me. Indeed, all who desire to live a godly life in Christ Jesus will be persecuted." (2 Timothy 3:10-12)
Timothy's maturity was no accident; it was an inevitable result.
Transformation isn't our task, but it involves our compliance. We present ourselves to the pressure of the Potter's strong hands. Dallas Willard says it differently, and better:
A part of our problem with understanding hell comes from the way we think about heaven. We think about heaven as some kind of comfortable resort, but the greatest thing about heaven is going to be the presence of God. He has allowed us to avoid him here on earth in some measure if we want to, but if you go to heaven, God's the biggest thing on the horizon. You're no longer going to be able to avoid him. And that would be the supreme torture if you haven't gotten over thinking of yourself as God. That's why I sometimes say that the fires of heaven burn hotter than the fires of hell.