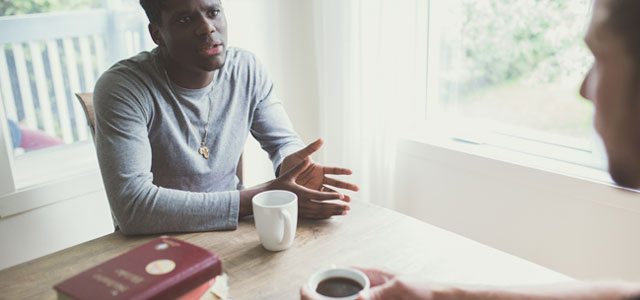 2). Listen Well, Listen Humbly
If racial diversity is already a part of our rural communities and churches, then we have an opportunity to actively seek out and listen to the stories of folks who have likely experienced the reality of racism firsthand. Again, this is because racism in its more subtle and systemic forms is often hard for folks in the majority culture to see.
That's why listening well, and listening even when it makes us uncomfortable, is so important. We can begin by sitting down for coffee with someone whose experience is different than our own. Sometimes we can listen in a group setting. Right now, many of our communities are holding vigils, gatherings, and protest events. These are great opportunities to listen.
Just last Sunday a small group of lay Christians in our small town hosted a grassroots gathering of prayer and listening they called "Together We Can." It was peaceful, empathetic, and at times candid. The police chief spoke, but so did individuals of color from our local community. It was nowhere near the final step in the journey. But it was a step. It was powerful. God was glorified.
3). Read Outside Your Comfort Zone
In addition to listening to the personal accounts of people of color within our community, we can also help ourselves as leaders in the rural church by taking the time to intentionally read authors who address the issue of racism—even racism in the church—head on.
If you have not read much about the history of race in this country or thought about how race impacts people's experience of society and the church, now is a great time to start. One evangelical publisher is even going so far as to give away free ebooks on the subject throughout the rest of this week.
4). Cultivate A Theological Vision Centered on the Kingdom of God
As I noted near the beginning of this piece, at the heart of the life of the church is the prayer Jesus taught us to pray, a prayer that asks for God to let his kingdom come and his will be done on earth as it is in heaven. As we in the church come to grips once again (or for the first time) with the pervasive blight of racism in our communities of all sizes, we need to anchor our local churches and our wider theological vision on a reality that was at the heart of Jesus' teaching—the Kingdom of God.
In the Kingdom of God, the rule and reign of God is complete. That means justice prevails, love defines all relationships, and sin and death are no more. Revelation 21 and 22 are great places to reference if you want to gain a feel for the essence of God's kingdom. But there is another passage that speaks to that kingdom reality that is less cited.
Revelation 7 offers us an account of the demographics of God's kingdom. It's a reality and a diversity more vast than the human mind or human senses can take in. As John looks, he sees "a great multitude that no one could number, from every nation, from all tribes and people and languages, standing before the throne and before the Lamb" (Rev 7:9 ESV).
Here we have the full kaleidoscope of human racial and cultural diversity on display. Rather than downplaying it, God seems to relish it. By including a multitude of races, nationalities, and cultures in the final kingdom, God puts his stamp of approval on human diversity. Every language, every race, is present and equal. If God had wanted a mono-culture he would have made monochrome kingdom. But, praise be to God, He sees in full color! Racial and cultural diversity are welcomed as desirable by God!
This vision—brothers and sisters of every nation, tribe, people, and language before the throne—is what the demographics of the kingdom we regularly ask God to let come on earth as in heaven look like. Wherever we live, it is our task to live, pray, work, and hope in light of this theological vision.   
This article on racism originally appeared here, and is used by permission.