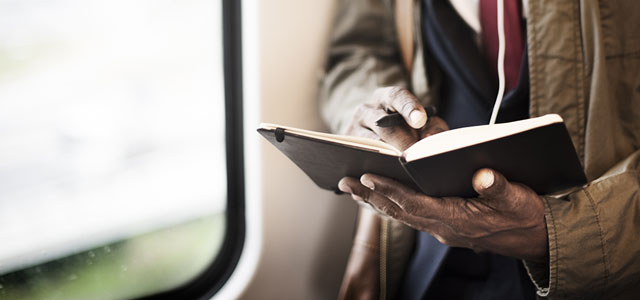 I finished the Multiply Vineyard process to plant recently, but I still have 11 months until my official church planting launch day. I am in the space between. I am still fully on staff at my sending church as the Children's Pastor; I am also fully occupying the title of church planter.  
I have a picture in my mind of myself, a church planter, spreading my wings in the nest of my sending church. I am just about ready to boldly fly out of the nest on my own and begin the process of gathering the sticks and twigs to build my own nest. 
We church planters are sometimes likened to unruly teenagers who spread their wings too hastily and boldly in the nest of their sending church, hitting others, ruffling feathers, and causing strife.
I have a deep-seated desire to push against this scenario. I am committed to leaving well. I want to leave having gleaned as much as possible from this church. This is the family that has raised me up. I want to leave with relationships intact and feathers unruffled.  
How does one navigate this space well? How do we gracefully and peacefully learn to spread our wings? I still have months to go until the launch of my church plant, so I'm sure I'll learn more, but here's what I've learned so far:
Be a learner
The time I have left in the nest of an established church is so valuable. I have committed to learning as much as I possibly can while still there and gleaning as much wisdom as I can from my sending pastor. 
He and I have a list we are continually updating of things I still need to learn and experience, conversations we need to have, and tasks to complete. We meet regularly and let the conversation wander. He imparts wisdom and talks me through potential scenarios and procedures. I find it crucial to maintain a heart posture of openness, humility, and to always have a willingness to learn.
"The heart of the discerning acquires knowledge, for the ears of the wise seek it out."  Proverbs 18:15
Be Present 
I am trying to stay in the "now" and soak up as much experientially as I can. I want to cherish these last few months with this body of Christ, to be fully present and fully connected relationally. I don't want to sever ties or pull away in an effort to protect my heart, but to remain fully committed and connected to the people I have worshipped alongside and grown with for the past 14 years.  
Be a Reader 
I am rediscovering my love of books. I have a stack I am trying to devour with multiple open with highlighters doubling as bookmarks. It is a priority for me to continue to pursue knowledge and to learn as much as I can before I am out there on the front lines of ministry. 
There is always more to learn about theology, church practices, wellness, church planting, and the word of God. Ask for book recommendations from everyone that you can. I've found if I buy them, eventually, I'll read them.  
Be a Networker 
The space between discernment and launch day is a vital time to build your network. I am actively strengthening connections with friends old and new. I am constantly asking others about their experiences and for their advice. I am connecting with other church planters, sending pastors, and people that have helped with church plants.   
I suggest getting plugged in with Multiply Vineyard, finding other pastors in your region, and attending conferences. My experience in the wider Vineyard movement is everyone is willing to listen, share their experiences and stories, and pray for you. All you need to do is ask.  
Be Spiritually Connected 
Staying rooted and grounded in my relationship with Jesus has proved the most vital part of my journey. I've made keeping a regular practice of reading, praying, and journaling a priority even through the COVID-19 craziness.  
Working with a spiritual director has been invaluable to me as a daughter of Christ, but also as a church planter. I feel more in tune and in step with Jesus than ever before. This guides decision making and church planting processes, but more than that, it has brought stability and depth to my relationship with Jesus.  
The space between calling and launch day: it could be awkward, intense, preparatory, fraught with conflict, or it could serve as a scaffolding around our launchpad. This space between could be a few short weeks, or it could be much longer than that. I truly believe if we, as church planters, commit ourselves to soak up as many experiences as we can and to honor our sending churches by leaving well, the space between will amplify our impact and create momentum we can carry into our new churches.  
Be empowered for what God is doing now and all he's calling you to next at the 2021 Multiply Vineyard Summit online February 4 & 5. Learn more at https://mvsummit.org. 
This article about the space before launch day originally appeared here, and is used by permission.