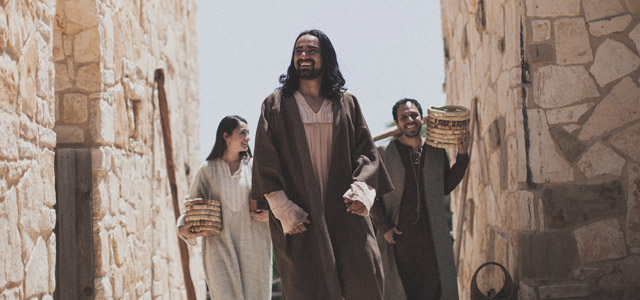 Who is your leadership idol? If you're a leader, you probably have a leadership idol. Not in an idolatry way, but more in a model way. We all have a person (or group of people) we consider model leaders. Perhaps you'd consider Mahatma Gandhi, Winston Churchill, Martin Luther King Jr., George Washington, or Mother Teresa as your leadership model. More recently, leaders try to mimic what they see in John Maxwell, Tim Cook, Sean McVay, Pope Francis, or Andy Stanley. There are plenty of great leaders from which to learn. If you are a Christian, I'd like to suggest placing Jesus at the top of our list. I know! This is a given. But is it, really? Growing in our Christ-likeness should be our primary leadership goal as a Christian leader. To do that, we must position Jesus as our leadership hero, and lead like Jesus.
Lead Like Jesus
Entering a world where might made right, Jesus led a powerful movement without leveraging power or positional authority. We rightfully think of Jesus as the Son of God and Savior, but he was a leader, too. Jesus knew that his time on earth would end, but the movement in his name would continue under the leadership of others.
During his three-year ministry season, Jesus loved, lived, and led.
Lead like Jesus – model these 10 leadership behaviors
1. Jesus always spoke the truth.
Truth defined the words spoken by Jesus. At times, this truth created trouble for him and his followers. At other times, telling the truth illuminated the path forward. Regardless of the consequences, Jesus spoke the truth.
Don't think for a moment that speaking the truth is easy or problem-free for leaders. The truth can get you into trouble. It certainly did for Jesus (read about the crucifixion). Telling the truth makes people uncomfortable. Worse, telling the truth might make you look bad. Telling the truth means saying, "I don't know" and "I was wrong."
There's a good reason people don't like telling the truth. Just look at the vast majority of politicians. This is a primary reason we don't have leaders in politics. Our political climate isn't about what's true or even what's right, but about what wins. Politicians are more concerned with winning elections, gaining power, and promoting a party agenda than being truthful, passing along power, and promoting what's best.
Jesus didn't spin the truth for his best interest. He certainly wasn't concerned with his image. He told the truth. We should, too. Always. Yes, there is a cost to honestly. There is also a cost for dishonesty. Leaders must determine which price they are willing to pay.
2. Jesus called his followers to more.
There were many moments when Jesus' closest followers, the disciples, wanted a position of power in what they believed to be a pending, earthly kingdom. Matthew gives us one of the most famous examples. I won't repeat the entire interaction, but here is the leadership point:
"Whoever wants to be my disciple must deny themselves and take up their cross and follow me." – Matthew 16:24
Basically, Jesus looks at these future leaders and says, "if you want to lead like me, die to yourself."
Jesus knew these men would become critical leaders in the movement. These men weren't yet great leaders, but they would need to be in time. Unlike the Roman and Jewish leaders around them, Jesus called his future leaders to lead through self-denial.
To lead like Jesus means putting the benefit of others ahead of yourself. It means sacrificing yourself for the mission and the people. It means being uncomfortable to provide comfort. Leading like Jesus is a call to more than basic leadership.
3. Jesus balanced compassion and conviction.
Nobody on the planet held stronger convictions than Jesus. After all, he was God. He was passionate about people living life to the full and experiencing joy along the way. As a leader, though, Jesus balanced his deep convictions with deep compassion.
You see this repeatedly, mostly in his interactions with people whose lifestyle or behavior irritated the convictions of others. See Jesus' interaction with the woman caught in adultery (John 8:1-11) or with the Samaritan woman at the well (John 4:1-42).
To lead like Jesus means holding solid convictions about your mission and vision while maintaining compassion for the people executing and experiencing the mission and vision.
4. Jesus was an authority living under authority.
In all things, Jesus listened to the voice of God. Even though he was the Son of God, He refused to allow his exalted position to determine his earthly power.
The Apostle Paul noted this leadership trait when writing a letter to the churches in the city of Philippi.
In your relationships with one another, have the same mindset as Christ Jesus:
Who, being in very nature God,
did not consider equality with God something to be used to his own advantage;
rather, he made himself nothing
by taking the very nature of a servant,
being made in human likeness.
And being found in appearance as a man,
he humbled himself
by becoming obedient to death—
even death on a cross!
– Philippians 2:6-8 (NIV)
Every leader needs accountability under authority because no leader is safe outside of accountability and authority. Leading like Jesus means accepting the authority of others and remaining accountable to them. If you have a board, submit to their authority. If you lead a small organization without built-in authority, find people you trust to serve as a personal board of advisors. While they may not have legal authority, you can give them authority.