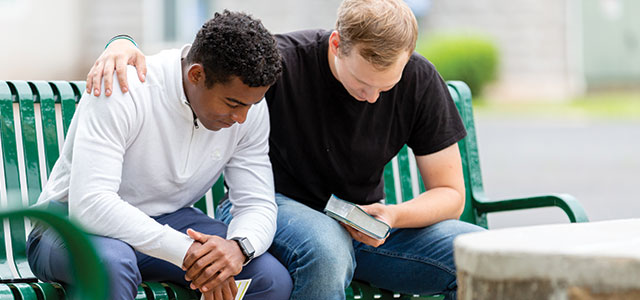 Making Disciples Conformed to His Image
For those whom he foreknew he also predestined to be conformed to the image of his Son, in order that he might be the firstborn among many brothers. (Romans 8:29)
1. The good news is better than we think: The Father intends that each of us become conformed to the image of his Son. This is staggering: If we are disciples of Jesus, the Father has set a destination for each of us—Christlikeness!
2. Jesus is unique: the only begotten of the Father. Yet that same Father is determined to have a large family. He sends a spirit of adoption into our hearts. We see him as our true Father, and we discover our older brother is none other than the Lord of glory.
3. When we first heard the gospel presented as Jesus' sacrificial death on our behalf—how many of us imagined the Father had a destination in mind better than Heaven itself?
Come to Me, Take My Yoke, Learn From Me
At that time ,Jesus declared, "I thank you, Father, Lord of heaven and earth, that you have hidden these things from the wise and understanding and revealed them to little children; yes, Father, for such was your gracious will. All things have been handed over to me by my Father, and no one knows the Son except the Father, and no one knows the Father except the Son and anyone to whom the Son chooses to reveal him. Come to me, all who labor and are heavy laden, and I will give you rest. Take my yoke upon you, and learn from me, for I am gentle and lowly in heart, and you will find rest for your souls." (Matthew 11:29)
1. If the destination of Christlikeness seems too far-fetched, Jesus comes to our rescue. He himself offers to be our guide and instruct us in the kind of life that flows from being with our Creator moment by moment.
2. We can simultaneously learn from him and find rest in him. For example, anyone who has tried to learn a new language, skill or life-habit understands the hard work involved. Yet Jesus tells us that when we are in a right relationship with him, we will experience new life and refreshing at the same time. No university in the world can offer that combination.
3. Human models of training and leadership depend on intelligence and worldly wisdom for their effectiveness. In this passage, the King himself looks heavenward and gives thanks that the kids at the head of the class have no advantage over the rest of us. In fact, they are in the dark—God rejoices that human intelligence is inadequate, while offering the benefits of relationship to all who will simply come to him. Who wouldn't take a deal like that?
This article on preaching to making disciples originally appeared here, and is used by permission.