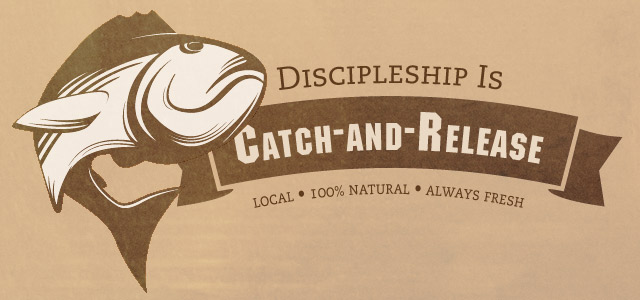 Jesus stopped a few fishermen one day in the Sea of Galilee and challenged them to turn the world upside down by issuing a simple call: "Come, follow me, and I will send you out to fish for people." (Matthew 4:19, NIV)
Many have taught about how the disciples left their careers behind to follow Jesus into full-time ministry that day, but they forget the other instances of the disciples fishing for fish later in the gospels.
It wasn't a career change or the sacrifice of a job to which Jesus called Peter, Andrew, James and John that day. He called them to fish for people, and to make people a superior priority to fish.
One of the mistakes we make in modern ministry leadership is to see people who walk through the doors of our churches on Sunday mornings as potential helpers, come to assist us in the fulfillment of our mission. If we're not careful, we begin to assess the usefulness of people based on their appearance, their talent, or their apparent zeal and commitment to spending time doing churchy things.
What if, instead of seeing people as a means to accomplishing our mission, we viewed people as the mission.
The difference is subtle, but important, between "thanks for coming to help us grow" and "thanks for coming so that we may help you grow."
Does this mean we don't expect believers to get involved, invest their lives and serve others? Of course not. There is no real spiritual growth without serving others.
It's simply a matter of being sure we aren't inadvertently using people for our purposes rather than helping people discover the purposes for which God wants to use them.
At Grace Hills, one of our core values is: We will bring out the best in people. We don't use or control people. Instead, we will involve, empower and release people to do great, world-changing things for God.
Our leaders look back to this core value when we need to be reminded of the differences between using people as a means to our mission's end and seeing people as our mission. Let me highlight some differences:
1. We want to include people in our family whether or not they are "useful" in the traditional sense of ministry. Jesus hung out with the lame, the blind and the broken, not because of what they might do for Him as a religious leader, but because of what He could offer to them.
2. We want to involve people in a God-sized vision and mission in the world. And everyone is valuable to that mission, regardless of their appearance or apparent skill set.
3. We want to empower people to grow spiritually as they get involved in ministry. In the business world, we're concerned with production, but in the church world, we're concerned less with how much gets done and much more with how people are growing.
4. We want to release people, trusting the Holy Spirit to guide them as they attempt big things for a big God. That means granting them the freedom to be themselves, to take risks and to fail. It even means releasing them to another church in the Kingdom when God calls them elsewhere, and investing all we can into them while they're under our care.
Everyone who walks into your weekend service can probably do something for you. The real challenge is figuring out what you can do for them.
It's a matter of changing our question. Instead of what can you do, let's ask what can we help you become?