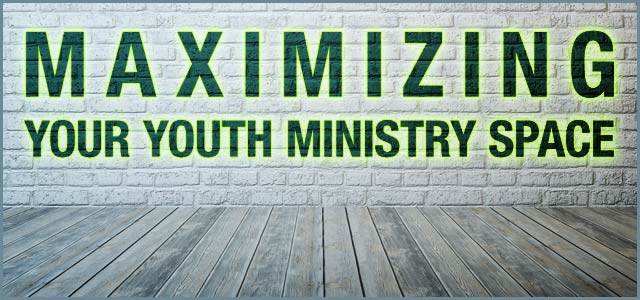 When I first started out in middle school youth ministry, our meeting area was the church sanctuary after the Sunday 5:30 p.m. Mass. While it was a space, it was not suitable for middle school students or their activities. While we had great attendance, the room still felt too big; something needed to change.
Fortunately, nine years later, we have had major upgrades. Granted, we still share space; however, it's more of an irresistible environment where teens feel comfortable.
Having your own space is a dream of almost every youth minister. Unfortunately, youth space is an afterthought of the church. If you don't have your own space, where you meet switches week to week. If you do have your own space, it's a basement or classroom. While you need to be grateful for what you do have, there are steps you can take to make your space better. In fact, you do not have to break the bank to make it happen, you just need to:
1. Be Intentional: Don't make your space an afterthought. Instead of running around five minutes before teens show up, get the room ready early. Set up chairs, move around the furniture and adjust the temperature. In other words, organize your room so that people feel like you were anticipating their arrival.
2. Keep It Clean: This is the easiest step anyone can take to create an irresistible space. Make sure the carpet is vacuumed, the furniture is in good shape and that everything is clean. A dirty space will not only make people uncomfortable, it'll communicate that they are not valued. Your space needs to be clean so that people are not distracted by the moving potato chip on the other side of the room.
3. Work It Into the Budget: Space needs to be budgeted because your stuff needs to be maintained. On top of that, budgeting allows you to strategize how to build an awesome space over time. You could ask for donations; however, you could never guarantee it's in decent condition. By working it into the budget, you are saying you value hospitality.
4. Dream Big: You may never have your own youth space; however, that should not stop you from dreaming big. Imagine your own room or even building. What would it look like? What do you imagine teens and leaders doing there on a typical night? Dream big, share it with others (especially your pastor) and pray on it. If you never communicate your desire for more space, you cannot expect it to happen.
Where you meet is just as important as when. If the space is not comfortable or attractive, it could serve as a distraction. You want to make sure teens are comfortable and engaged with what you are sharing with them. Do not let something as simple as a broken chair or dust bunny get in the way.
What simple steps do you take to upgrade your student space?