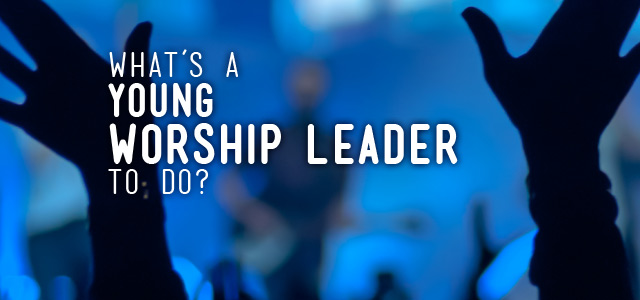 Recently, I had the privilege of leading the music at the Conviction to Lead conference, put on by Cornerstone Church of Knoxville. It was a regional men's conference for the Sovereign Grace Churches in the mid-South. It was a great time of encouragement, equipping, fellowship and laughter. Topics included The Leader and Conviction, Learning, Vocation, Planning, Parenting, the Home, the Word and the Church. Messages can be downloaded here.
On Friday afternoon, I met with about 40 guys for lunch followed by Q&A on topics related to music and worship. One question had to do with what my counsel would be to a worship leader who was just starting out. I could have rattled off 10-20 things that are important to focus on. But I wanted to keep it simple. So here's what I said, with a little elaboration.
1. Live in the good of the gospel.
Living in the good of the gospel at least requires knowing the gospel. The gospel is the good news that Jesus Christ, fully man and fully God, died and rose again to rescue a people from their sins and God's judgment by bearing their guilt and punishment on himself at the cross (1 Cor. 15:1-4; 1 Pet. 3:18; 1 Pet. 2:24; 2 Cor. 5:21). He did this out of unfathomable love for us and ultimately for the glory of the Father. The gospel isn't trying to be better, viewing Jesus as a good example or loving everyone. It's the objective reality of Jesus Christ saving people from death, hell and judgment.
But knowing the gospel isn't the same as living in the good of the gospel. Living in the good of the gospel means enjoying to some degree all that Jesus died to win for us. Release from condemnation (Rom. 8:1). The joy of knowing we're adopted into God's family (Rom. 8:15). The security of God's faithful love (Rom. 8:37-39). The assurance that God will provide all that we need (Rom. 8:32). Freedom from sin's power (Gal. 5:24). Victory over our fear of death (Heb. 2:14-15).
I talk to leaders all the time who aren't living in the good of what Christ accomplished. They constantly battle (and regularly give in to) comparison, envy, self-promotion, discouragement, anxiety, depression, even despair. But make no mistake about it. If we aren't enjoying the benefits of the gospel, we'll have a hard time persuading others that it's the power of God (Rom. 1:16), and will quickly turn to other means to motivate or affect them (riffs, synth pads, graphics, lights, smoke, etc.). We'll think it's all about people being amazed by us instead of people being amazed by Jesus.
If that's you, I'd encourage you to start mining the riches of Christ's redeeming work. Study gospel passages. Read books like The Cross of Christ, The Gospel for Real Life, Living the Cross-Centered Life, The Gospel Transformation Bible and Gospel Wakefulness. And know that you'll never think too highly of Jesus and what he accomplished through his life, death and resurrection.
2. Know the God of the Bible.
God calls every Christian, especially leaders, to know the Word of God and the God of the Word. There are a number of ways we can grow in our knowledge of God, including studying creation, reflecting on our experiences and talking to others. But God has given us the ultimate and authoritative revelation of himself in his Word. All other knowledge of God is to be tested by and weighed against Scripture.
Take time, make time, seize time to take in God's revelation of himself. If you can find time for Facebook, sports, TV, video games, movies and hanging out, you can find time for God's Word. Ultimately, nothing is more important to read than God's inerrant, unchanging, sufficient, life-giving, motive-revealing, Christ-exalting, joy-fueling, strength-imparting Word.
Challenge yourself to read more than you think you're able. Start a Bible plan and read so much that you actually get ahead of the plan.
Don't just read. Meditate. Reflect. Ruminate. Interact. Memorize. Take notes on Sundays. Find great preachers of God's Word and listen to them. Most importantly, obey. You'll never regret knowing Scripture as well as or better than you know your instrument and gear.
Get to know the living God through his Word and you'll continually be amazed at how little you really know him and how much more of him there is to love and trust.
3. Be the best musician you can be.
Godly character isn't a replacement for lousy musicianship. Wherever you're at musically, you can be better. God doesn't need our musical talents, but he can use them. The more tools we have in our musical tool kit, the more likely we won't be distracted when something unexpected comes up.
Have trouble keeping time? Practice with a metronome. Can't stay on pitch? Get some voice lessons (or just start breathing more deeply). Can't play more than 10 guitar chords? Get a chord book or talk to a more experienced guitarist and work at it. Don't know what a Csus, Eadd2 and dominant 7th are? There are some good iPad and online theory courses, or check out your local college.
Limited song repertoire? Spend time researching hymnals, or check out YouTube, Sovereign Grace Music, Getty Music, Indelible Grace, WorshipTogether and other sites. Technology have you confused? Talk to someone who knows more than you do. Visit a music store. Check out YouTube …
As I said earlier, I could have mentioned things like loving your spouse, being a faithful parent, praying diligently, pursuing humility, loving your church, evangelizing, serving in other ways. But if you focus on the three areas above, you'll be in a better place for God to use you now, even as he prepares you for what you'll be doing in years to come.