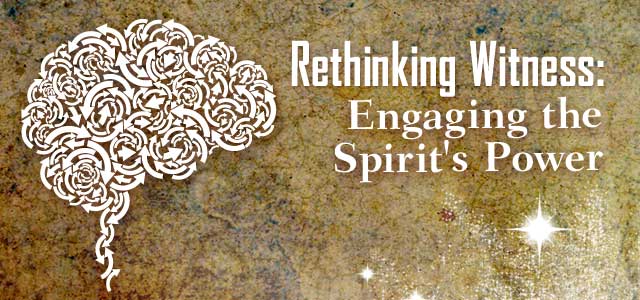 We need to rethink witnessing and make it less about us and more about God. We need to engage the Spirit's power in evangelism.
Bryan was a brilliant atheist engineer adamantly set against the "mythology" of Jesus. His wife's new faith in Jesus only served to add another deadbolt on his heart. What Bryan didn't realize is that one of the leaders in our church had felt led to call their small group to intense prayer on his behalf. A growing number of our church members were caught up in the daily "Bryan" prayer. However, we didn't say anything to him due to his previous responses to our overtures.
After a couple of months, we heard reports of what seemed like "deadbolts" loosening. Then Bryan showed up at church for a service. He didn't stay for the whole thing, but he was there. Over the next few weeks, he showed up each Sunday and stayed longer. One Sunday, when I was preaching on a topic as far from salvation as you could imagine, Bryan raised his hand and walked down the aisle to indicate a personal faith in Jesus.
All those praying for Bryan were jubilant, yet, honestly, still a little skeptical. But Bryan's faith was genuine. So much so that for the last 13 years, each Saturday, he has ridden his bicycle 36 miles around the perimeter of Long Beach to pray for the people of our city to know Christ. I often think that anyone who comes to Christ in our city owes a little to Bryan, the converted atheist who prayed for power in evangelism.
5 Prayer Marks for Power in Evangelism
The Spirit-led prayer for power in evangelism is marked by five characteristics:
1. It believes God is able and willing (2 Pet. 3:9).
2. It asks for the Spirit to guide it (Eph. 6:18-19).
3. It listens for the Spirit's direction and responds with earnestness (Acts 20:22).
4. It believes that it is heard and responded to (Psalm 34:15).
5. It is specific and persistent (1 Kings 18:41-46).
Paul requested this kind of prayer from the church at Colossae: "Devote yourselves to prayer, being watchful and thankful. And pray for us, too, that God may open a door for our message, so that we may proclaim the mystery of Christ, for which I am in chains. Pray that I may proclaim it clearly, as I should" (Col. 4:2-4).
Paul says, "Your prayers can go before my sharing of the gospel so that previously closed doors are now open and ready to receive the message."
A Defining Moment
Every church leader has defining moments in his or her ministry. I remember mine. It was actually a story someone told me about Billy Graham, but I'll never forget hearing it. To be honest, I'm not even certain if it's completely accurate, but this story clearly captures the essence of Rev. Graham's approach to evangelism, as I know it.
Backstage at a Billy Graham crusade, some of the local pastors asked one of the crusade organizers, "What is the source of Billy's effectiveness?" The organizer looked at them and said, "I'll show you," and led them to the speakers' green room. There, he pointed to a damp spot on the floor and said, "Here is where Dr. Graham weeps in prayer over souls before the service begins." That wasn't hard for me to believe. I remember hearing Billy Graham say, "Tears shed for others is a sign of strength."
When I first wanted to start planting churches, I felt the Lord ask me, "Larry are you willing to fast for 40 days and pray before you plant?" I was used to fasting a day or two, but 40 days? I futilely tried to rationalize the Spirit's voice away, but I really wanted to plant churches to reach lost people. So I finally promised God a 40-day fast.
The experience was brutally wonderful. My spiritual hat is off to those who do this yearly. I shrank up. I got cranky. My wife pleaded with me to start eating for her sake. But I stuck it out, and God met me in incredible ways. Something significant was accomplished in the spiritual realm. That kicked off a church planting movement that continues to this day.
A Bridal Prayer
I think one of the most poignant Old Testament stories happens in Genesis 24 where Abraham's servant is sent to find a bride for Isaac. He feels incapable of the mission set before him. He fears that he'll go to the woman with the good news, with the invitation, with the gifts of his master, and the woman will be unwilling to leave her old life and commit herself to Isaac. Does any of that sound familiar to your evangelistic mission?
So what does the servant do? He stops at a hill overlooking the city, kneels down and prays, "Oh Lord … please grant me success today." As you know, he is successful in his search.
For the Christian servant who wants to be effective in sharing the gospel and bringing a bride to Jesus, prayer must be front and center, first and foremost. It cannot be assumed, perfunctory, religious, obligatory or rote. When Spirit-led prayer goes before our mission, we can move on the mission with abundant confidence that God is at work.
How is the Spirit leading you to pray? In what ways are your prayers unlocking doors in the people and the community around you? Are you willing to engage in earnest prayers for power in evangelism to reach more people with the gospel?