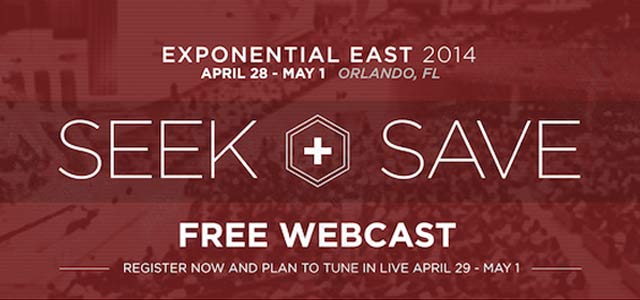 (March 16, 2014) To help as many as possible church leaders "rethink" evangelism, Exponential has announced plans for a high-quality live webcast from the upcoming Exponential East 2014 conference in Orlando. The webcast is free to anyone who registers for it.
Featuring 25 leading voices in the Church today, the live webcast will include 10 sessions streamed live over three days from Tuesday, April 29, to Thursday, May 1.
Exponential is continuing last year's discipleship conversation, this year focusing on what Jesus said was His core mission on earth: "…to seek and save that which was lost" (Luke 19:10)—and how we as Jesus' disciples can look to His example to join Him in that mission. The webcast's sessions will focus on five key areas: ReThinking Evangelism; ReThinking Outreach; ReThinking Witness; ReThinking Preaching; and ReThinking the Commission.
"This webcast offers leaders who can't make it to Orlando, or are leaving a spouse or team members at home, a solid solution for encouraging and equipping them through what we believe are critical conversations for the church as we focus on helping awaken an evangelistic impulse," says Exponential Director Todd Wilson. "It's the second best thing to being onsite."
Collectively, webcast viewers will hear from 25 key leaders: Andy Stanley, Bill Hybels, Nicky Gumbel, Dave Gibbons, James Meeks, Greg Nettle, Matt Chandler Jeanne Stevens, Oscar Muriu, Choco De Jesus, Michael Frost, Larry Osborne, Alan Hirsch, Danielle Strickland, Damien Boyd, Dave Travis, Dave Ferguson, Vince Antonucci, John Teter, Jim Burgen, Hugh Halter and via video Tim Keller, Craig Groeschel, Louie Giglio and Ed Stetzer.
For the last two years, Exponential has partnered with LifeWay Christian Resources to present the high-quality webcast. In 2013, the Exponential Orlando webcast drew an estimated 40,000 viewers in 93 countries while the Exponential West 2013 webcast featuring programming similar to Orlando's drew 15,000-plus viewers worldwide. Exponential believes this year's webcast from Orlando has greater potential to reach many more.
"The cross-section of speakers we've enlisted to lead these main sessions is possibly the strongest in the conference's seven-year history," Wilson says. "We're thrilled to offer this caliber of teaching on evangelism to a global audience."
The webcast will again feature DVR functionality, allowing for flexible viewing times. The DVR functionality and free access offer church and ministry leaders prime opportunities to host the webcast for their launch teams, small group leaders, staff, network and even their church.
"The Seek + Save theme and rediscovering these five biblical truths are of critical importance to every church planter," says Exponential President Dave Ferguson.
"Recent research tells us that only 18 percent of Americans will set foot in a church this weekend, but Gallup reports that 92 percent of the U.S. population says they believe in God. We have to come to grips with the reality that many churches have lost their ability to connect with people who actually believe in God. We have to rethink evangelism because we have to rethink how we reach this group of people who believe in God but have not found a safe place in our churches.
"I believe the webcast will be an important equipping tool to challenge and inspire everyone in the church to help people find their way back to God."
Exponential East speaker Hugh Halter adds, "If God could change the world through men and women who traveled by land and sea just to share the story of Christ, imagine what can happen when countless thousands of people around the world share the story of Christ through a webcast!"
"New technology is going to help take powerful ideas that are changing the game in the United States and make them accessible across the globe," says author Alan Hirsch, a thought leader and key mission strategist for churches across the Western world. "It's all about movement. Very exciting."
 For a detailed schedule of the webcast and a full list and description of the five key areas that Exponential 2014 will explore, go to exponential.org/webcast.
Anyone wanting to participate in the webcast experience can register for free at exponential.org/webcast. During the live webcast, participants will receive periodic emails alerting them to upcoming sessions and speakers.
*******
Founded in 2008, Exponential is a growing movement of leaders committed to accelerating the multiplication of healthy, reproducing churches. Providing a national platform and distribution channels for championing church planting, Exponential spotlights and spreads actionable thought leadership (principles, ideas and solutions) through conferences, magazines, books, digital media and learning communities. Exponential is one of the premiere distribution channels of church planting resources for hundreds of national influence leaders, including Francis Chan, Alan Hirsch, Rick Warren, Matt Chandler and Mike Breen. For more information, visit exponential.org.