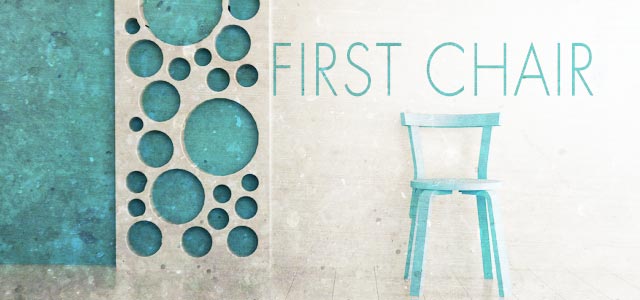 Recently, I wrote a post on how to create environments that attract and retain first-chair leaders in a second-chair position.
The post was well received, but as expected, I received numerous questions after the post. The most common had to do with how to spot a first-chair leader—or when a second-chair leader should consider being a first-chair.
A former intern of mine had a similar question. He's a great young man with a bright future ahead of him. I'm so proud to call him friend.
Here's what he asked:
How long do you typically recommend a young first-chair leader sit in the second chair? Obviously, it depends on the individual and the leader, but in general there is always more to learn. What process would you go through to evaluate when the young leader seems ready to branch out? Thanks! Miss sitting in the chair under you!
Great question.
I told him I was working on a post. I decided to think through some of my own experiences and some of the observations I've made over the years. Frankly, some are based on frustrations I've experienced and certainly that I've observed or even caused others to feel.
Let me make clear, as if you didn't know, that this is a subjective post. I couldn't write a post that would fully answer the question for every person. I can only share some principles I think could help a leader discern if they're ready or if they need to consider a first-chair position. If you were sitting down with me to talk through this issue, I'd probably advise you to think through some of these.
Here are seven considerations for when you may need to be a first-chair leader:
1. You can't seem to be satisfied with leadership you are trying to follow. I learned years ago one way to discern the gift of teaching. If you are always thinking, "I could teach this better," you may have the gift of teaching waiting to be expressed. The same is often true of potential first-chair leaders. I've talked with some leaders serving under tremendous first-chair leaders who were still continually frustrated. Sometimes it's not the person they are leading, but an indicator they need to try leading on their own—at least for a season.
2. You are always pushing past the current limits set for you. You keep hitting a lid. First-chair leaders (and many second-chair leaders) hate to be capped to a level of achievement. If this is continually happening to you—and frustrating you—it may be time for you to move chairs.
3. You have a different vision than you are being allowed to live. Let's face it, any healthy organization has a defined vision—one of them—and sometimes a few smaller ones that support the one. But, if you have a personal vision that doesn't fit anywhere in the mix, that doesn't mean any of the visions is wrong. It may just mean you need to go pursue the vision you feel God has given you.